Windows users having Windows 8.1 Update installed on their machines or devices are qualified to get Windows Store Refresh, beginning from today in Windows Update.
Why a refresh now? For once, you will agree, although Windows Store has a healthy stock of apps, finding those apps from thousands is a daunting task and pain at times. Moreover, a few items in the interface are hidden, not readily visible which add to the problem of a user in getting started to download their favorite apps. Not anymore!
Windows Store Refreshed
Microsoft has started pushing out a Windows Store update that intends to line content front and center rather than elsewhere.3 major changes that have been incorporated in the New Windows Store are
A new persistent navigation bar – The navigation bar focuses more on to Top charts, Categories, and Collections. Still, it offers intuitive and fast access.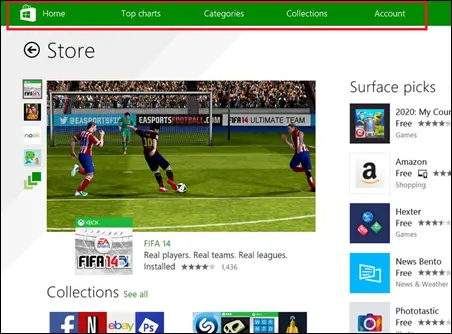 Multiple featured titles – Several top, new, trending, and rising apps are grouped together right on the Store landing page, and also on the Category pages. This aims to make the process of finding apps you are looking for a lot easier.
Ability for publishers to offer universal Windows apps – App developers can now choose to link their free and paid Windows and Windows Phone apps across their Windows devices, so users can identify and download the apps. if you buy the app once, you can get it across your Windows devices. Microsoft Studios is publishing Halo: Spartan Assault in this mode which means irrespective of the Store you buy the app from (Windows Store or Windows Phone Store), it will be compatible with other Windows devices.  You are not required to pay for the second time. Pretty good!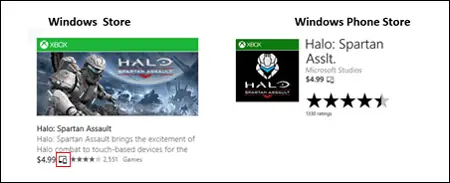 In opinions of many, this stands as favorite Store enhancements of all. It was first revealed at Microsoft's Build 2014 conference last month and was named as "shared app identities" marked by the icon shown above in red.
We think you're going to like having faster, easier access to all the great apps and games in the Windows Store. After you've had the chance to check out these enhancements first-hand, feels Microsoft.
Let us know how you like it.