Microsoft announced that the company is releasing Windows Subsystem for Linux (WSL) for all Windows 11 and Windows 10 users. Microsoft has also made the store version of WSL the default for the users who run wsl --install. On the other hand, existing users can easily upgrade to the latest version of WSL by running wsl --update. Windows Subsystem for Linux is now generally available in Microsoft Store for Windows 11/10 users.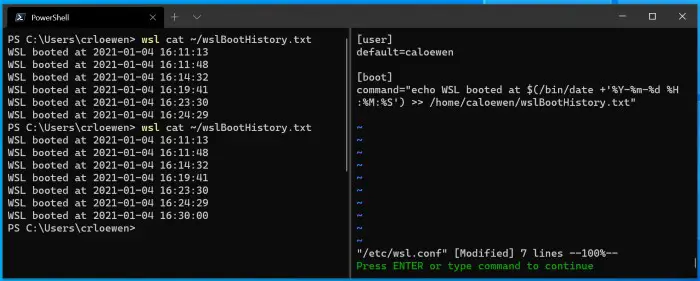 Download Windows Subsystem for Linux from Microsoft Store
Previously, Windows Subsystem for Linux was available as a preview build. Now, Microsoft has dropped the Preview tag and made it available for all Windows 11 and Windows 10 users. For those who do not know what a WSL is, it lets developers run a GNU/Linux environment including most command line tools utilities and applications directly on a Windows PC without installing Virtual Machines or setting up a dual boot on their Windows systems.
Microsoft also explained the advantages of installing the Store version of Windows Subsystem for Linux. The Store version of WSL will get faster updates as compared to when it was a Windows Component. Windows Developer Platform Program Manager at Microsoft, Craig Loewen said:
In response to the WSL community's requests, WSL in the Store will now also be available on Windows 10 in addition to Windows 11. So, Windows 10 users will also be able to enjoy all of the latest features for WSL including systemd and Linux GUI app support!
To get this update, open Windows 11/10 Settings and go to the Windows Update page. Now, click Check for updates. If a new update is available, install it (KB5020030 for Windows 10 and KB5019157 on Windows 11). Also make sure that your computer should be running on Windows 10 version 21H1, 21H2, or 22H2, or Windows 11 version 21H2 with all November updates applied.
For more details about WSL, like what's new in the Store version of WSL, known issues, etc., visit microsoft.com.