Microsoft has announced the list of vendors who manufacture USB Drives that meet requirements to give the users the best experience while using Windows To Go. Windows 8 users may be aware that Windows To Go is a new feature that enables enterprise administrators to create USB drives containing complete, managed Windows images that can be used to boot and run Windows on any Windows 7 or Windows 8 powered machine.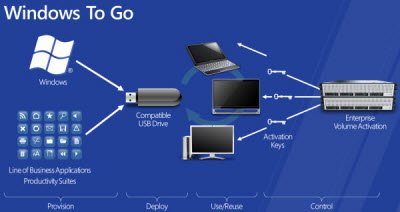 In order to get a seamless mobile Windows 8 experience, Microsoft only supports Certified Windows To Go drives.
To become certified, a USB drive must pass a battery of certification tests. Moreover, they must be built for high random read/write speeds and support the thousands of random access I/O operations per second required. They should also be  tuned to ensure that they boot and run on hardware certified for use with either Windows 7 or Windows 8 and be built to last.
Microsoft has identified the list of vendors who meet these requirements and announced their names:
Imation
Kingston
SPYRUS
Super Talent
WD
These 5 Windows To Go Certified Drive Partners manufacture USN Drives that will meet all the requirements, to provide you with a seamless experience.