You might have tested your IQ (Intelligence Quotient) and EQ (Emotional Quotient) many times, but Microsoft now introduces a new term TechQ (Technology Quotient) for its users.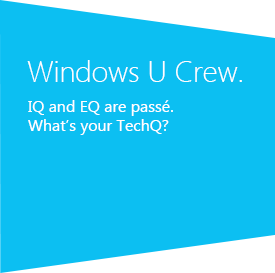 With some attractive prizes and gifts Microsoft is looking for talented young minds who can lead the change with Windows 8 & Windows 8.1. You can register your young wards to Microsoft's Windows U Crew, a Campaign for Windows 8.1. The applicant has to be 18 -25 years of age to participate in the campaign. Also he/she must be currently pursuing a full-time course in a college in India.
Other requisites include an internet data card/USB, a valid Student Identity Card and a Hotmail/Outlook account.
Selection Process of Windows U Crew Champions
Students first have to register online with their correct details. Microsoft will then shortlist the candidates and will send them a form with a SkyDrive sharing URL. Shortlisted candidates have to submit a 2-3 min video on this URL mentioning their favorite Windows 8/ Windows 8.1 features. The duration of video must not be less than 2 minutes and more than 3 minutes. Participants must also add an interesting caption to their video.
In short, the video must feature the candidate demonstrating Windows 8 and its best features. Only the genuine and original content will be allowed to enter the campaign.
Microsoft will judge the participants on their Communication skills, Quality of Content, Engagement Capability and Creativity. Prizes include a cool Windows 8/8.1 device, gift vouchers, goodie bags and much more. Check out the complete rules and regulations here and register now.