Microsoft has released a document titled Windows 10 devices up to date with Microsoft Intune and Windows Update for Business and it is now available for download from the Microsoft Download Center.
Microsoft has taken some serious flak for the Windows 10 update methods and forced updates. We have come across several instances wherein the Windows 10 has upgraded automatically and without users consent. Microsoft has decided to address this for the Windows 10 enterprise users via the Windows Update for Business.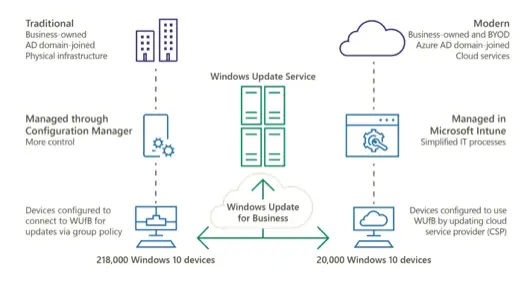 What is Windows Update for Business
With Windows Update for Business we can control how and when Windows 10 devices receive updates and restart. It provides centralized management and reduces the level of effort required to keep Windows 10 devices up to date.
Windows Update for business is an advanced tool that offers greater controls for users to manage the updates. In an enterprise environment, it becomes very important for the IT administrators to exercise greater control over the update process. The Windows Update for Business is an array of settings that are aimed at helping IT admins.
What is the use for Windows Update for Business
Windows Update for Business can be employed to manage feature and quality updates for Windows 10 users. As explained earlier the operation is managed by an IT admin and they can choose which updates to deploy and which to defer or delay indefinitely. This way every month the Windows 10 client will automatically update to the pre-chosen update packages.
The Windows Update for Business offers a plethora of options and with the client user interface, you can use Group Policy, the registry, Microsoft Intune and SCCM. That apart the update can also be delivered to client locations by using the method of "servicing rings." The Windows Update for Business will also work with other tools like Windows Server Update Services, Microsoft Enterprise Mobility, and other selected third party tools.
What is required for Windows Update for Business to work
First things first, this new enterprise feature requires internet connectivity and the telemetry needs to be switched on. Furthermore, the Update for business works with all Windows 10 Clients and supports Education, Pro and Enterprise editions.
The disadvantages/cons of Windows Update for Business
As with all the other features, the Windows Update for Business comes with its own set of limitations. Let us take a closer look at some of them,
Definition updates will not work
Dual Scan behavior might be triggered accidentally in some cases
Needs SCCM to be updated to version 1706
All said and done the Windows Update for Business seems like a nifty little tool that will help the enterprise manage the updates in a much better way. I hope that Microsoft improves the cross tool compatibility and iron out the shortcomings.
You can download the ebook from Microsoft for a full read.