Microsoft had earlier released Windows Virtual Desktop – but only for their partners and customers who volunteered. Well, now the public can avail this feature with their Windows 10 and also their Windows 7. Alongside you can also take advantage of the Office 365 ProPlus and use the Windows Virtual Desktop on the Azure Virtual Machine.
Windows Virtual Desktop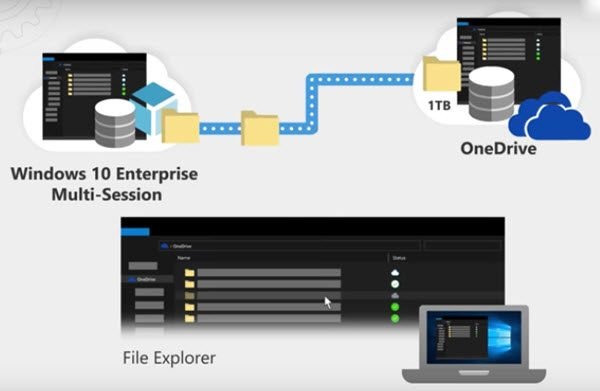 The Windows Virtual Desktop is not particularly designed for gamers. It is aimed at corporations and businesses who want to work efficiently and share employee participation even more.
Think about companies like music labels who have to access and manage gigantic volumes of metadata. That is not just complex but also data-heavy for your system. Now, the Windows Virtual desktop means you can store all of those in your cloud platform and say goodbye to rewriting your applications.
This can be applied across various industries that are based on heavy data handling. You also get additional perks like scaling the number of users. But the volume of users extended on the Windows Virtual Desktop minimizes attack surfaces of the applications.
You may wonder if the Windows Virtual Desktop is for Windows 10 and Windows 7 legacy applications, then what happens in 2020? By 2020, Windows aims to cut all the extended support Windows 7 users get like updates and the rest. But, in support of this change, you will be able to virtualize your Windows 7 with the Windows Virtual Desktop. You avail free extended security updates (ESU) right up until 2023.
This extended security solution also comes for both, your Windows 7 and Windows 10 legacy applications and desktop apps too.
What Happens to AWS, Citrix?
Well firstly nothing much, as they will adapt to extend the use of the Windows Virtual Desktop. Mark Bower a senior analyst at the Enterprise Strategy Group said–
"I suspect most customers are looking at Windows Virtual Desktop and saying, 'It's about time'".
In other words, the use of the Windows Virtual Desktop boils down to user comforts. If it makes your process easier, chances are it is going to last. And, if anything, Windows knows user comfort very well.
With the success of AWS and Citrix, Windows Virtual Desktop is set to extend all of those functions. To point, Citrix is already advertising to their users that they can use Citrix to further the networking capabilities, management tools and also the optimization of user experience, with the Windows Virtual Desktop. Making it easier for Citrix coupled with Microsoft, Citrix can share its cloud products on the Microsoft DaaS. And, that in turn is beneficial to users as they have a wider option of capabilities.
In the end, the idea that an entire company can store their metadata on the cloud platform and extend user roles to many other task forces while not bogging down their Microsoft systems is not just cost-effective for companies but, super easy for the workforce.