Microsoft has added new details on a support page surrounding potential incompatibilities between antivirus products and patches that have been designed to stop Meltdown and Spectre. The notice has stated that unless the antivirus software that they are using falls into line with the requirements for the patches, then users will not receive them.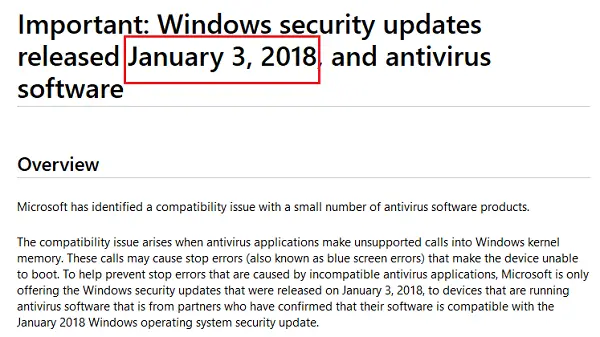 Antivirus software need to add a key to the Registry
The way in which the programs become compatible is by an update and adding special code required by the Windows Registry. The code tells Windows that the product is compatible and will trigger the vital update that is needed by millions of computers around the world due to a flaw in the design of many modern central processing units.
Going forward, Microsoft has stated that it intends to continue to use the registry key code as part of its update requirements. This change will ensure better compatibility of external software to its Windows operating system. This has been an issue in the past for Microsoft, who seem to have many more compatibility issues with their software than Apple. Apple is very stringent on external manufacturers, and it does result in fewer compatibility issues. Though it also leaves a very small market for manufacturers.
The update requirements will not affect users of Microsoft's own Windows Defender software as they are built in-house and are known to be compatible. The issue will only affect external antivirus vendors. Most of these vendors have already fixed the errors.
A majority of the major antivirus makers have already updated their products. Microsoft's approach is a little strong, and they haven't given the industry much time to get their house in order. By effectively putting a gun to its user's heads, Microsoft is playing something of a dangerous game. It is likely that most antivirus vendors will be, if not already, finishing their updates to ensure that users remain protected.
Please check further details on the Microsoft website here.