This story is a famous one, and the credit goes to 73 year old, Charles O'Rear for capturing the image which went on to become the most famous wallpaper the world ever saw – the default Bliss wallpaper for the Windows XP operating system.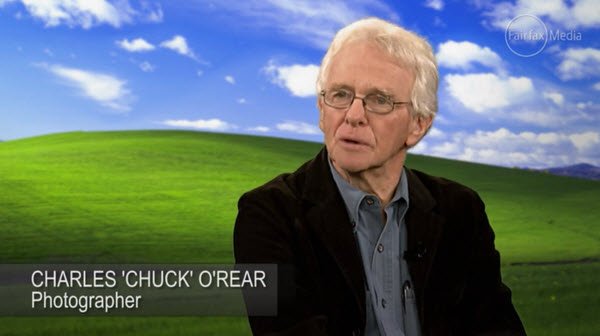 Charles O'Rear – The Man who clicked famous Windows XP photograph says,
"I had no idea that it was going to become the most seen photograph or recognisable photograph in the world".
The Windows XP wallpaper containing rolling green hills, blue sky and fluffy white clouds is believed to have been viewed by more than 1 billion people. However, if you think that the inventor of this most seen photograph ever, earned millions for his contribution, you will be surprised to hear his negotiated price for the deal.
Today, after 13 long years of the deal, Charles O'Rear expresses that he could have negotiated a better contract with Microsoft when he licensed it to attend the launch of the famous operating system. He says,
"If I had known how popular it would become and how many computers it would've been on, I could've negotiated a [better] deal, 'Just give me a fraction of a cent for every time it's seen' and that would've been a nice arrangement".
Adding to above O'Rear mentioned,
"It was not a royalty type of situation. It was a flat 'here's what we're paying you, thank you very much and let's get it on the [computer] screen and get moving."
Many accused that the image was digitally altered
Charles O'Rear had to counter accusations when it came to the authenticity of the famous image. Many thought that the image was taken in Ireland, however O'Rear clarified that is was shot while he was driving through Napa and Sonoma counties in California on the side of the highway on his way to see his then girlfriend and now wife.
Recalling the day, O'Rear says that when he was driving to see his then girlfriend in January, 1996, a storm had just passed through and he got out his medium-format Mamiya RZ67 camera. "Here were a few white clouds remaining and out goes the camera and there is the photograph. Bingo!" expressed O'Rear.
How did the photograph land at Microsoft
Microsoft found the image through Corbis. Incidentally, Corbis was a stock photography agency founded by Bill Gates in 1989 as he believed that people would someday decorate their homes with a revolving display of digital artwork using digital frames. In Corbis archives, the photograph was found in a low resolution, hence the agency called O'Rear to their headquarters to get a better scan.
O'Rear says,
"Corbis said, 'Please send us that original'. So we called the Federal Express [FedEx] … and they said how much they would insure that photograph for and I said 'Well I don't think that's enough'. So Microsoft then said through Corbis 'Here's a plane ticket, bring us that image and hand it to us, it's too valuable'. I had no idea that it was going to become the most seen photograph or recognisable photograph in the world for how long? 10 years, 12 years?"
Before being adopted as the default wallpaper of the Windows XP, the original image was altered a bit, like cropping the left side of the frame and altering the color of the hillside to make it a much more vivid green.
While we sympathize with Charles O'Rear of not being paid of what he wanted, the famous Windows XP wallpaper will remain in our memories for years to come.
Source: smh.com.au.
Go here if you are curious to see what the Windows XP Bliss wallpaper location looks like today!