Windows 10 Enterprise v1703, also known as the Windows 10 Creators Update is now available on the Volume Licensing Service Center. As promised, Volume licensing customers are now able to download Windows 10 Enterprise and Windows 10 Education from the Volume Licensing Service Center (VLSC).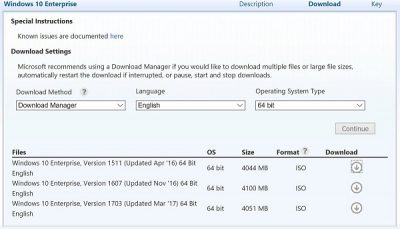 Windows 10 Enterprise v1703
Version 1703 is the third feature update for Windows 10 and brings many new features and functionality improvements. The update is specially designed for IT pros to manage and protect the organizations' devices and data better. It further will help you to be more productive with the features like better battery life, Windows Ink and Cortana support, improved accessibility and an enhanced privacy settings.
Now that the update is officially rolled out, you must be looking for the perfect sources of download files for the new OS. Microsoft, however, recommends using a Download Manager to download the large file sizes or multiple files.
Go to the Volume Licensing Service Center, sign in, select the download method, language and your operating system type to download the update. Follow the instructions to install the update on your PC.
You can find the ISO file download for Windows 10 Enterprise v1703 under "Software Assurance" tab instead of "Windows". The .ISO file for a 64-bit operating system is 4051MB in size and it may take some time to download. While Microsoft says that Windows Creators Update will be offered to you but if you own a license or subscription you can download the OS ISOs and other access-controlled files. Head over to the Volume Licensing Service Center for Software Downloads and download it now. You need a valid Open Authorization and a Licence Number to get an access to the Volume Licensing Service Center.
You can also upgrade your PC using to Windows 10 v1703 using Media Creation Tool, via Windows 10 Disc Image or via Windows 10 Update Assistant.