Long awaited update for older Windows Phone devices would soon end! Yesterday, Telstra – An Australian Telecommunications and Media Company confirmed that it is planning to roll out Windows Phone 7.8 software for older Windows Phones, latest by next month.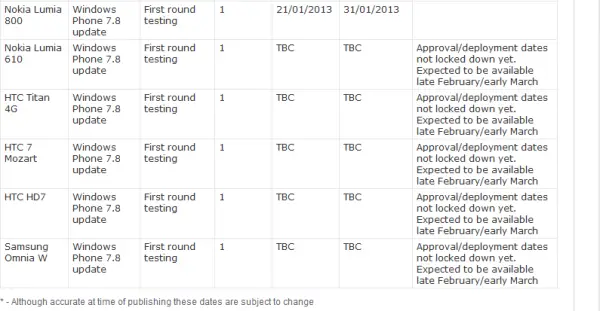 The company said that it had already started testing the Windows 7.8 phone update for compatibility. However, no specific release date for the platform upgrade has been revealed. End of February appears to be the earliest!
News from some sources reveal Nokia handsets are likely to be the first products to be benefited from the update before it is seen on other devices. Nokia Lumia 800, Nokia Lumia 610, HTC Titan 4G, HTC 7 Mozart, HTC HD7 and Samsung Omnia W are the smartphones that are in line to receive the update once it's ready for deployment.
The testing and update dates for the HTC Titan, HTC HD7 and Samsung Omnia W are sill to be confirmed. The wireless network carrier has posted detailed information on the upcoming Windows Phone 7.8 on this page with the following note.
Hi all,

A very quick update this week. Unfortunately we are still investigating the issue identified with the Galaxy Nexus Jelly Bean update. We hope to have more information early week commencing 21 January. Apart from that the status of each of the updates is in the table below. There is not a great deal of change as the test team have only just come back on board after the holiday break.
Great news for some!