Microsoft yesterday announced the winners and finalists of Microsoft Partner of the Year Awards 2013. The company hosts these awards annually for Microsoft Partners innovative solutions addressing customer challenges. It also includes the use of various Microsoft technologies with their software and hardware partners.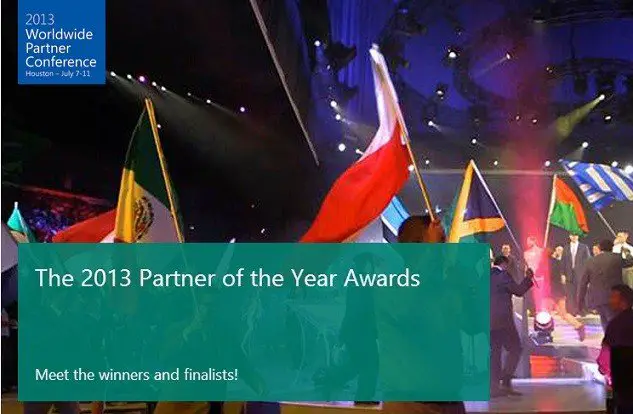 All of the finalists and winners will be recognized in the company's annual event for industry partners, Worldwide Partner Conference in Houston on July 7-11.
There was a total of 3000 entries this year from 100 different countries out of which 44 winners are announced in different categories. The categories included for this year Microsoft Partner of the Year Awards 2013 were corporate responsibility, sales excellence, entrepreneurial spirit, SharePoint, Office applications, Windows 8, and Cloud Computing,
Talking about the awards, corporate VP of Worldwide Partner Groups, Jon Roskill said, "The 2013 Partner of the Year Award winners and finalists represent some of the best and brightest our ecosystem has to offer. We applaud each of our partners for demonstrating exceptional dedication in working to solve the most pressing technology challenges facing our mutual customers today. Congratulations to each award winner on this recognition."
Here is the list of some of the winners :
Office/SharePoint App Developer Partner of the Year
Winner: Dell Software Inc.
Finalist: Adlib
Finalist: AvePoint
Finalist: Nintex
Windows 8 App Developer Partner of the Year
Winner: Posh Consulting
Finalist: Dell Inc.
Finalist: Laserbiomed s.r.l.
Finalist: Sparked
YouthSpark Citizenship
Winner: Dell Inc.
Finalist: CHH Enterprises Inc. (d/b/a New Signature)
Cloud Partner of the Year
Winner: Solidsoft
Finalist: Nextscape
Finalist: SADA Systems
Finalist: Cloudbearing
OEM Hardware Partner of the Year
Winner: THIRDWAVE Corp.
Finalist: Avangard LLC
Finalist: iRU
Finalist: iBUYPOWER
You can read the full list at Microsoft.