Office for iPad has crossed 12 million downloads in just one week of its launch, Microsoft proudly announced via Twitter. Microsoft introduced Office for iPad Suite on March 27, 2014 which includes Word, Excel and PowerPoint apps for iPad. The apps have collectively reached 12 million downloads in just week of release.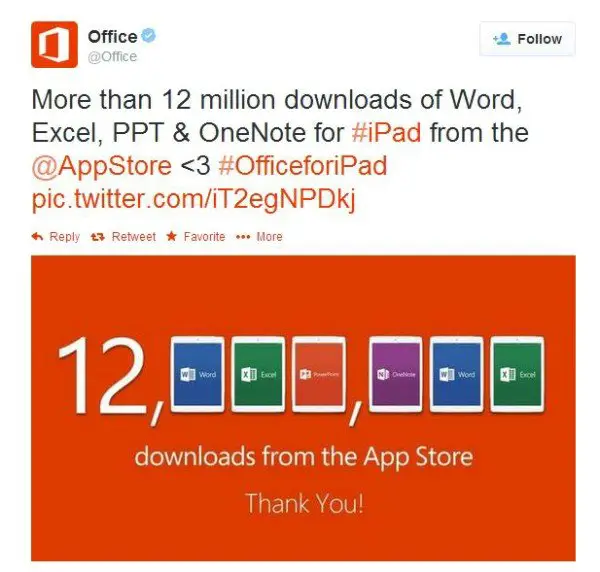 The number however also include the download of OneNote iPad app which has been available in App Store for around 2 years. With the Office for iPad Suite, Microsoft released an updated version of OneNote with a new design.
The three new Office apps for iPad soon shot up to the chart of top free apps in App Store and the credit goes to the nice big banner from displayed on the App Store. However, Microsoft has been promoting its three Office apps for iPad Suite and was also offering out free Office 365 subscription to iPad buyers at retail locations.
Free Office For iPad Suite Features
Free versions of Microsoft Office for iPad includes three separate Office applications- Word, Excel, and PowerPoint. The free iPad versions of these apps allow users to open, copy, view and share the documents. To create new document or edit them, users have to pay the subscription costs $9.99 per month or $99/year. Paid Office 365 Subscription provides the access to full capabilities of these Office apps.
Despite its $340 billion Market Cap, Microsoft has actually been a non-factor in the tablet market and Office 365 for iPad sales is interpreted as its "pyrrhic victory" by analysts.