Is WordPress copying Facebook Like button ? No, I am not kidding. Today WordPress has unveiled a new "Like" Feature on all WordPress.com blogs. You'll notice this new feature at the bottom of all WordPress.com blog posts where a "Like" button, when clicked shows the Gravatar image for all the bloggers who liked a post.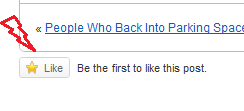 When you "like" a post two core things happen. First, the blog post's author sees your "like" and can click-through to your Gravatar profile. Second, clicking "like" saves the post in your homepage dashboard (in the "Posts I Like" section), so you can share it with others, or just keep it around for future reference.
If you want to keep track of the number of likes count which you have received, then there's a new "like count" column on the "Posts > Edit Post" screen. This will show you the total like count on each of your posts, right next to the total comment count.
This feature will help people to get connected and increase the network engagement between readers.
Have something to say ? Do you think WordPress has copied this feature from Facebook ?