Microsoft has released the Work Folders feature for iPad. Previously available only for Windows 7, Windows 8.1 and 8.1 RT, Work Folders app is now available for free download in Apple AppStore.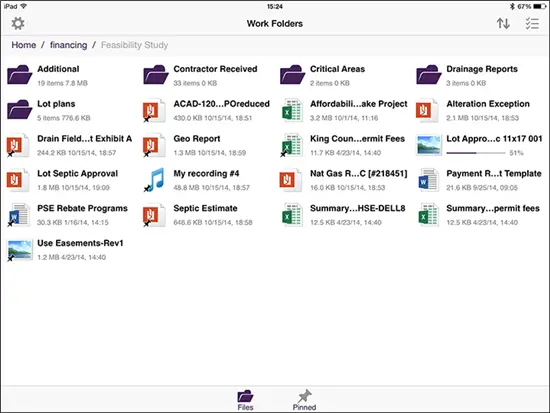 With Work Folders, users can store and access work files on personal computers and devices, often referred to as bring-your-own device (BYOD), in addition to corporate PCs.
The intuitive app released for iPad now lets the users store and access their work files from the iPads as well.
Overview of Work Folders for iPad
The Work Folders app helps users with a set location to store their work files which can then be accessed from anywhere. The feature is best suitable for the corporate houses as it allows them to store their work files on a centrally managed file server. The app provides a great control over their corporate data with the additional feature of lock screen passwords and data encryption.
Features of Works Folders App for iPad
Users can pin their work files for offline viewing
Saves and syncs only important files thereby saving the storage space in your iPad.
Keeps your work files are encrypted always.
The app is password protected by an app passcode thereby keeping your files safe.
Built-in file viewer of the app lets you view the files right inside the app.
Allows for DIGEST and Active Directory Federation Services (ADFS) authentication mechanisms including multi-factor authentication.
Head over to the official blog post for the download links.