As per the latest stats released by International Data Corporation, worldwide tablet shipments recorded a sharp decline in the first quarter of 2015. The combined decline for Tablets and 2-in-1 devices (laptop-tablet hybrid devices) was -5.9% as compared to the 1st quarter 0f 2014.
Tablet devices continuing market slump, also has a reflection on Apple's market share. The iPad manufacturer has until now shown five consecutive quarters of negative annual shipment growth. It shipped 12.6 million iPads in the 1st quarter of 2015, capturing 26.8% of the market in volume and declining -22.9% when compared to the 1st quarter of 2014.  The slump could be attributed to the fact that people prefer an iPhone or Mac laptop instead of iPAd.
Apple, Samsung, Asus struggle, Lenovo surprises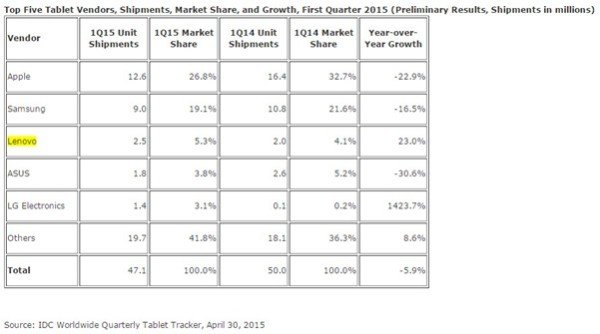 The IDC report suggests a drop in numbers for other manufacturers as well except Lenovo. Despite a big slump from almost 50%, Apple continues to head the Tablet market share with 26.8%. Samsung is following Apple with 1Q15 market share of 19.1% registering a drop of 16.5% from 1Q14.
The third in the race is the Chinese manufacturer Lenovo who surprising has shown a growth of 23% as compared to the 1st quarter of 2014. The market share for Lenovo stands at 5.3%. Lenovo dispatched 2.5 million devices in the first quarter of 2015 compared to 2 million in 1Q14.
IDC report says that Lenovo has benefitted from its wide range of products that includes plenty of low-cost offerings which are proving popular in a growing number of regions and the brand is performing well in the adjacent PC and smartphone markets.
4th placed Asus, has struggled to keep up its market share too. The Taiwanese multinational shipped just 1.8 million devices compared to 2.6% million that it shipped in 1Q14. However, as IDC reports, "the new "Chi" devices have been well received in developed markets. In emerging markets, Asus' Fonepad 7 continues to gain traction as the demand for voice capabilities grows in emerging regions".
LG Electronics completes the list with 5th spot, growing 10% from the last quarter in an otherwise declining market. LG's market share grew from 0.2% to 3.1%.
What's ahead for Tablet Makers?
As per IDC, the future for Tablet market lies in non-traditional segments like cellular-enabled tablets and 2-in-1 devices. Sellers would need to come up competitive prices as buyers continue to evaluate their mobile strategies.