Xbox is one of the leading gaming platforms in the world. One of the features that make Xbox personal for the user is the availability of Avatars. These Avatars as the name suggests, are just the customized version of the user's character. Until now, the customization of these avatars was really limited. But in June of 2018, Microsoft announced the availability of an all-new Xbox Avatar Editor for Xbox and Windows 10. Initially, it was just available for the Xbox devices enrolled for the Xbox Insider Program but was later made available for Windows 10 users joined under the Windows Insider Program.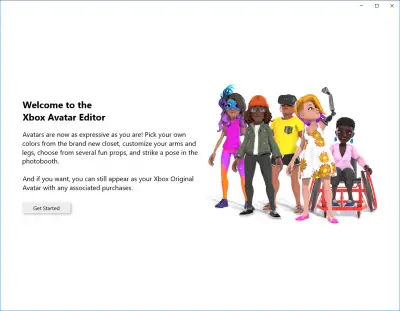 Xbox Avatar Editor for Xbox
Microsoft has made this new Xbox Avatar Editor available for the Public. It is available for Windows 10, HoloLens, and the Xbox.  This new version gets a lot of new features and includes high customization options for the users as well.
You can now customize their body type options, clothing, and props as well. Along with that, you will be able to add accessories, moods, hair, face and other things.
These avatars are usually displayed in the user's dashboard, along with their Gamertag and in your friend's lists. It is usable in the Xbox App for Windows 10 to be used as the gamer's profile picture alternative which gives it a really personalized look.
If you wish, you can try out the app for Windows 10 from the Microsoft Store here.