Microsoft has decided to launch a new Game Pass subscription known as Xbox Game Pass Core, and it is meant to replace Xbox Live Gold. The idea here is for Game Pass Core to provide the typical Xbox online multiplayer support, discounts on games, deals, and 25 free games.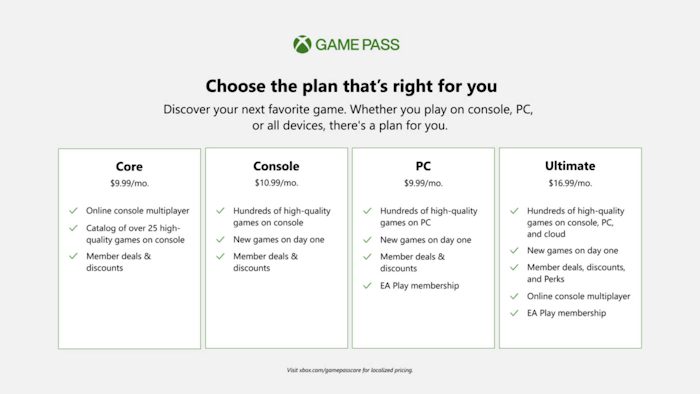 Gamers who are currently subscribed to Xbox Live Gold will be automatically transferred to Game Pass Core at no extra cost. This transfer will take place on September 14th, and for those who are unaware, the price sits at $9.99 per month, or $59.99 per year, the same as Xbox Live Gold.
Additionally, since Xbox Game Pass will deliver 25 games to players, Microsoft has decided to put an end to Games with Gold on September 1. Furthermore, any Xbox 360 titles that were redeemed in the past will not be lost. They'll be kept in a library permanently, but the same cannot be said for Xbox One video games as they will require a subscription for unlimited access.
Now, we should note that the 25 free games are not a monthly privilege. Microsoft aims to add new titles two to three times per year, and that's not a bad proposition from our point of view.
"We wanted to use this opportunity to reimagine how to include content with this subscription," according to Jerret West, CVP of gaming marketing at Xbox. "We found that the answer to the most compelling catalog was to leverage select titles from our Xbox Game Pass catalog."
Here are the first 19 games of the 25 the new Xbox Game Pass Core subscribers can expect to gain access to.
Among Us
Descenders
Dishonored 2
Doom Eternal
Fable Anniversary
Fallout 4
Fallout 76
Forza Horizon 4
Gears 5
Grounded
Halo 5: Guardians
Halo Wars 2
Hellblade: Senua's Sacrifice
Human: Fall Flat
Inside
Ori and the Will of the Wisps
Psychonauts 2
State of Decay 2
The Elder Scrolls Online: Tamriel Unlimited
If you want more bang for your buck, then subscribe to Xbox Game Pass Ultimate, and you'll never run out of new games to play ever again.