Microsoft released Xbox Music late last year, fast-forward 8 months there's a news coming up that the company is gearing up to launch a web version of Xbox Music to give its subscribers an easy way to access the service across various platforms from a browser. Microsoft Xbox Music is already available on Xbox 360 console, Windows 8, and Windows Phone 8 and offers Spotify-like streaming service for music.
UPDATE: Xbox Music is now live at music.xbox.com.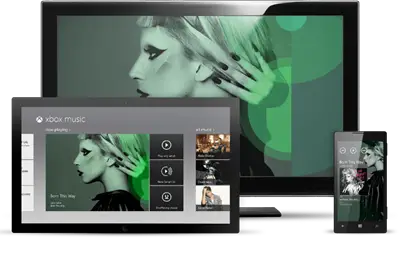 Xbox Music web-based Version
Music.xbox.com as the service might be named would compete directly with both Apple's iTunes iTunes Radio and Google Play Music/All Access. It would act as both, digital music store and streaming service, similar to Spotify. So, users can buy their favorite individual tracks or albums like on iTunes, and additionally, sign up for a premium subscription that offers on-demand streaming music. Alongside the web version, Microsoft is also refreshing its Xbox Music app for Windows 8.1 that features a slick two-column design.
There's no word from the Microsoft officials yet. Microsoft hasn't confirmed the possibility to bring Xbox Music to your browser! Reports suggest that we could learn more about the plans when Build Conference kicks off today. An overhaul for the Xbox Music app is expected alongside release of public preview of Windows 8.1 update. We will update you more on this topic, later.