The latest round of Xbox One April update has already started rolling out. The update is coming in two different waves and the first wave is already available for preview, says Major Nelson.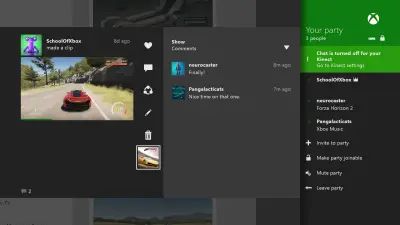 Xbox One April Update
As always this update also brings some new features and some functionality improvements to the Xbox. With the first wave of update, the Xbox users can get the following features-
Improved party chat – The Xbox users can now enjoy the improved party chat with some troubleshooters. The users will now get an alert for poor network during the chat sessions.
Game hub links – Xbox users will now get a notification when any of their friends follows a game along with their achievements, game clips and screenshots. The activity feed items will help the users discovering game hub content easily.
Achievement notifications –With this latest update, users will now get the notification about their achievements with description. You can now see the detailed achievements just by clicking over the notification.
Apart from these features, there are some functionality improvements also added in the update. The achievement app will now load faster. The second wave of features will be soon released for the members of Xbox One Preview Program. They can expect the features sometime around next week. Team Microsoft will soon be adding more of interesting features to Xbox One.
Sign up to the Xbox One Preview Program and stay tuned to the blog for more on the next wave of updates.