Harlem Shake is a dance form which originated in Harlem in 1981′. In the last few weeks or so, you may have noticed that interest in the Harlem Shake seems to have increased considerably. In facet you may have even seen several companies uploading videos of their versions of the Harlem Shake being performed by a group of their employees, to social sharing sites. Companies like Microsoft, Google, Intel, Eset, etc. have already uploaded their videos to social media sites.
To acknowledge the popularity of the Harlem Shake, YouTube has decided to make its videos and logo dance to the beat.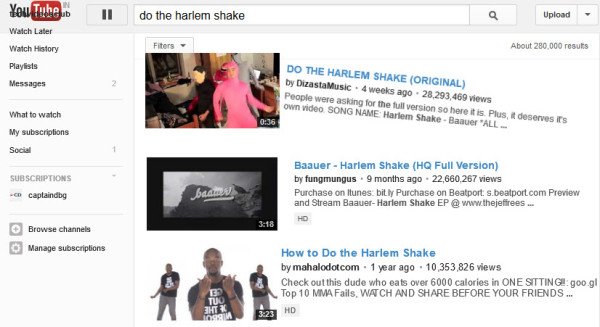 Just type "do the harlem shake" in YouTube's search bar and watch the fun!
In case you don't know what the Harlem Shake is, check out these videos.
Original Harlem Shake
Harlem Shake Microsoft Style
Harlem Shake Google Style
Enjoy!