Google, the Internet giant has announced a new product, named Zavers by Google. The product is digital coupon that you can add to your online cards for buying stuffs when you find discounts on your favorite retailer websites.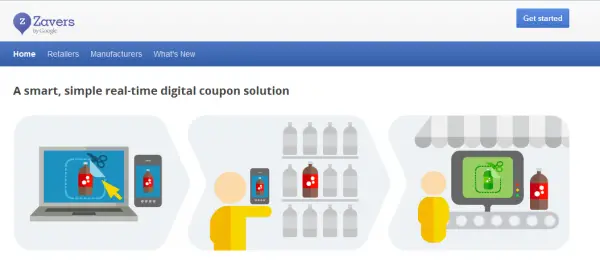 The amount spent for buying stuffs is automatically deducted when you checkout and swipe your rewards card or type in your phone number, no scanning or sorting required! The tracking of the Zaver Coupon can then be done in real time by the retailers and manufacturers. The whole process offers retailers and manufacturers better control over the process and the buyer.
Main highlight of Zavers by Google
All the transactions made are stored in the cloud which give manufacturers a real-time look at the pace of redemptions, and easier ways to target and plan coupon policies to maximize profits.
Spencer Spinnell, Director, Emerging Platforms, Google Commerce points out,
Unlike traditional media, Zavers' real-time data gives manufacturers new ways to measure coupon redemptions and analyze consumer preferences so they can manage distribution, tailor campaigns, and optimize budgets for maximum ROI. Zavers also offers access to an extensive network of manufacturer coupons, opening up new retail revenue streams.…Zavers by Google is growing fast. This month we are thrilled to welcome New York's Original Grocer, D'Agostino, as the latest partner in our retail network. In the coming months, we will be announcing partnerships with a number of other major retailers.
For more information, visit Zavers by Google.