Google is desperately trying to increase Google Meet's usage and engagement among users. According to a report, Google's desperation is resulting in unfair and deceptive techniques to lure Zoom users into joining Google Meet. Google has been caught sending Google Meet links along with Zoom calendar invites.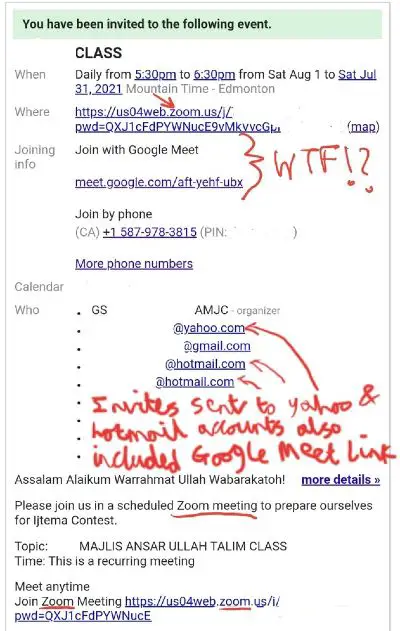 Google forcing Meet down your throat
If the above screenshot is anything to go by, Google has been modifying the email invites in transit and adding confusing rather unnecessary Google Meet links to these invites.
TheWindowsClub has verified the authenticity of this claim and found that Google has been indeed promoting Google Meet links with Zoom meeting calendar invites. Here's how we put it to test.
We created a meeting on the website. Zoom allows hosts to add meetings to Google Calendar and share invites with others. So, we clicked on the Google Calendar sharing button on the Zoom website.
Zoom requires permission to access your Calendar and contact list to share Google Calendar invites with other attendees. While composing a Zoom calendar invite, we made sure that there is no Google Meet involvement at all.
On the Google Calendar add event page, Google provides event organizers with an option to add Google meet video conferencing. But we chose to ignore that option since our meeting was already scheduled to take place on Zoom.
To our surprise, the Zoom invite still included a Google Meet link under joining info. The Google Calendar invite is likely to result in confusion among attendees, that's for sure.
Google Meet has been hoping to cash in on Zoom's popularity and user base for quite some time now. In April this year, Google rebranded Hangouts as Meet.
In the wake of the ongoing pandemic, the consumption of enterprise video-conferencing solutions including Zoom, Google Meet, and Microsoft Teams has skyrocketed like never before.
Via: Mspoweruser.