A group of hackers targeted popular micro-blogging platform – Twitter this week. The latest attack on Twitter comes days after a number of major publications such as New York Times and the Wall Street Journal revealed that they too had been the target of a well-coordinated hacking effort.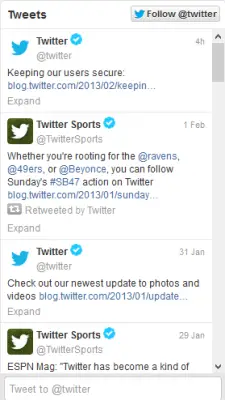 It is estimated that while launching an attack, Anonymous hackers gained access to usernames, email addresses and passwords of some 250,000 Twitter users. The site claims it has already sent out emails to those users whose accounts may have been compromised. It has notified the affected users via emails and automatically reset their user passwords. Now, they would need to create a new password in order to access the service again.
The attack was brought into light after unusual access patterns across the network was detected and unauthorized attempts to access user data were identified by the security officials.
Said Bob Lord, Twitter's Director of information security:
The attack was 'not the work of amateurs' and the company did not believe it was an isolated incident. Our investigation has thus far indicated that the attackers may have had access to limited user information – usernames, email addresses, session tokens and encrypted/salted versions of passwords – for approximately 250,000 users. As a precautionary security measure, we have reset passwords and revoked session tokens for these accounts.
Twitter employs the best of security researchers. Bob Lord who head up the company's security efforts, is highly respected in the security community. Still, the company's researchers were limited on the amount of information they had with them and therefore could not share more on our topic of interest.
Stay safe – follow some of these Twitter Log In Tips and check your Twitter Privacy & Security Settings.