According to a recent IHS Technology's Connected Device Market Monitor report, there were over 8 billion devices connected to the World Wide Web at the end of 2015. Surprisingly enough, it's not the PCs or Laptops that are leading these numbers – but smartphones! The numbers consist of the devices such as PCs, TVs, smartphones, tablets, and media-enabled connected devices, etc.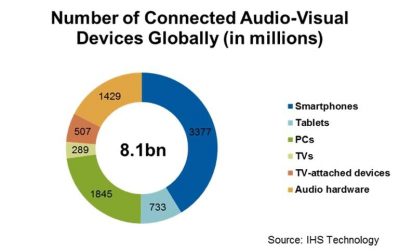 8 billion devices are connected to the Internet
Merrick Kingston, Principal Analyst, Connected Home at IHS Technology, said in his report:
"The proliferation of media-enabled connected endpoints has implications for media consumption, media production, broadband infrastructure, and the business itself of network management and traffic discrimination. It drives media consumption, IP traffic and more."
The report indicates that smartphones influence the global industry with roughly over half a billion new devices. Similarly, tablets and OTT set-tops are also catching up fast, but they still have a long way to go as compared to smartphones. The smartphones-to-tablet ratio currently stands at approximately 5: 1. However, this ratio is further predicted to widen by 2020 at 10:1.
Regardless of the growing excitement in the vicinity of the connected devices, the other IoT-enabled devices apart from PCs, smartphones, and tablets are making a tremendous impact on media and entertainment industries.
Google's Chromecast – a lineup of search giant's digital media players also surpassed Apple TV in Q1 2016. As a result, Apple TV shipped 1.7 million units as compared to the likes of Google's 3.2 million units. The report also revealed Netflix's 32 percent of market share among the total connected devices in the United States.
Since the last couple of years, more and more people in the developing world are getting used to smartphones, and this mass adoption of technology is undoubtedly making a difference – not only in people's lives but also in terms of the innovation as a whole.