Aiming to redefine the way people interact with digital documents including PDFs, Adobe recently unveiled Liquid Mode. It will also help organizations gather document intelligence for an advantage over competitors. Adobe's Liquid Mode is powered by Adobe's AI framework called Adobe Sensei.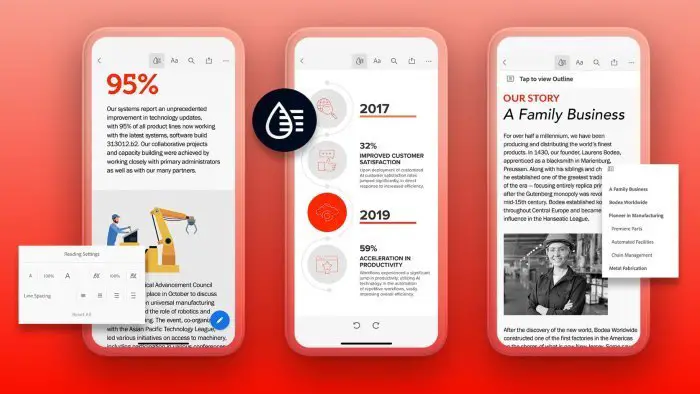 Adobe introduces Liquid Mode
Thanks to this AI-based technology, the company can better understand the structure of PDF documents.
"We have begun to reimagine how people read and interact with digital documents, starting with reinventing mobile productivity beyond the 8.5×11 page," said Adobe's Ashley Still.
What is Adobe Liquid Mode?
Adobe's Liquid Mode aims to redefine the user experience when it comes to reading PDF documents on mobile devices. PDF consumption on mobile has never been easier, especially when documents are long, lengthy, extremely wordy. These are some of the pain points that the company is now looking to address.
According to a study conducted by Adobe, 65 percent of Americans find PDF reading experience on mobile frustrating. In fact, 45 percent of Americans stopped reading or didn't even try. Meanwhile, 72 percent of Americans could be willing to give it a try only it somehow becomes easier to read documents on mobile devices.
Adobe is launching Liquid Mode first in the free Adobe Acrobat Reader mobile app for iOS and Android. It will also be available on Google Play Store-compatible Chromebooks. Eventually, Adobe's Liquid Mode will arrive on desktops and browsers.
Adobe Liquid Mode: How it works?
Liquid Mode uses Adobe's artificial intelligence (AI) and machine learning technologies to enhance PDF layout. Following are some of the features of Adobe's Liquid Mode:
A flowable layout that mimics HTML pages on the web.
Tap images to zoom in.
Linked outline view.
Collapsible content sections (accordion widgets).
Back to top button at the document end.
To use Liquid Mode, open your PDF document and tap on the droplet icon.
The demand for cloud computing services continues to skyrocket in the wake of the pandemic. Adobe sees a 200 percent increase in usage of Adobe Sign. Meanwhile, the company has more than doubled monthly active users of Acrobat DC this year. This goes to show the importance of PDF across industries. Adobe estimates there are more than 2.5 trillion PDFs in the world today.
Last month, Google introduced 'New' Acrobat Online to let Chrome users convert. compress, and sign PDF documents on-the-go.