Last week Microsoft revealed Windows 8.1 Preview and showcased Windows 8.1 Smart Search. Microsoft has revealed that Bing Ads will be an integral part of this Windows 8.1 Smart Search experience. Bing Ads platform has brought a number of new ad products. Microsoft promised that they will continue to make search even more relevant and engaging for consumers across new devices and platforms.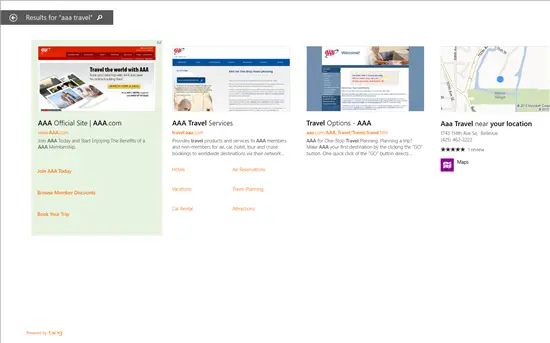 Windows 8.1 Smart Search allows consumers to look and search for information across the web, device, apps and cloud. It brings the whole search experience under a single umbrella and allow consumers to play, launch, view and browse with a single tap. In essence, it is just a faster way to find, discover and do various things in Windows 8.1. This is great news for advertisers because they will now be able to connect with consumers across Bing, Yahoo! and the new Windows Search with relevant and targeted ads.
Bing Ads also bring new ad products which allow advertisers to generate more revenue with higher click volume and opportunity for expansion into international markets. These new products and features for Bing Ads include site links, location, call extensions and web previews of websites. According to Microsoft, this is a win-win for both consumers and advertisers as consumers are able to complete tasks easily and advertisers are able to drive qualified leads.
David Pann, GM for Microsoft Advertising Search Group said in an official blog post:
Bing Ads within Windows 8.1 Smart Search allows advertiser campaigns that are already participating on the Yahoo! Bing Network to automatically be eligible to be shown without any additional setup. As we've said before, our goal is to make search advertising easier for our customers, while providing the best consumer experience with the most relevant results for the tasks they are looking to accomplish.
Even though Microsoft has tried to present the concept with a very exciting and innovative aspect for both consumers and advertisers, we could seldom recall any situation where consumers are really happier with the advertising than without it. Even if the advertising is assumed to reduce the difficulty of tasks for consumers somehow, the final verdict will come only when Windows 8.1 falls in the hands of the consumers, who hold the final call for the product.
What do you think of this move by Microsoft!?