Malwarebytes is a security software company which offers consumers and businesses protection against threat. The threats not just include viruses but Malware, Trojans, Adware, and so on. The company has published its State of Malware Report 2020. The report contains analysis based on their detection of threats, key takeaways, and what we could see this year. Here are some key sections from the report which talks about how Adware threat dominates on Business, Mac, Android, and Windows.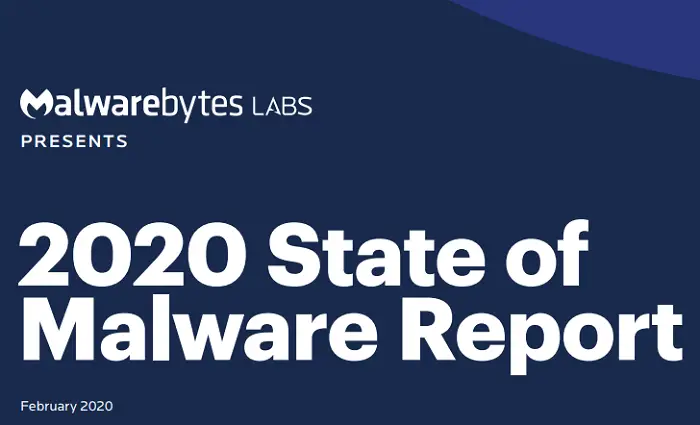 Thread detection in Business increased substantially
According to the report, there is a clear trend towards industrialization, i.e., more attacks on Business than consumers. Recent threats from Emotet and TrickBot primarily terrorized organizations.  Followed by these were Ryuk, Sodinokibi, and Phobos.
The past few years had been significant for the Mobile industry, and there had been a massive rise in pre-installed apps on Android devices. It's not a big surprise but mostly ignored. Most of the devices launched in India come with pre-installed apps, and they have been known to sending data out to external servers. Adware attack growth was massive this year—463% in Businesses.
Top 10 consumer category detections 2019
Here is the graph of the top ten consumer threats, where Adware leads compared to trojans and hacktool. The percentage increase for Adware is 13%, and that of hacktool is 42%. On the contrary, Trojan, RiskwareTool, and Hijackerdetection  has dropped significantly by 7%,  35%, and 73%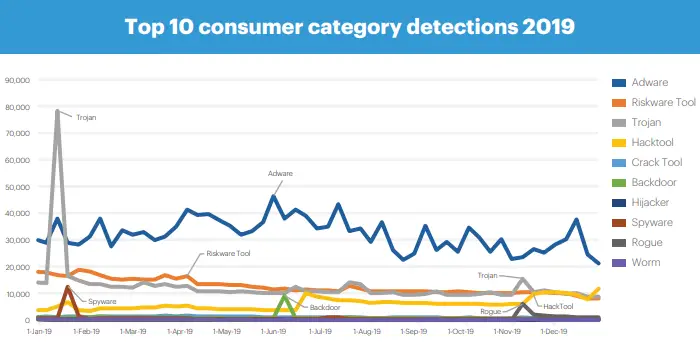 Top 10 Business Category detections 2018-2019
It is an interesting part of the increase in the business platform increased by 13 percent in 2019. Adware attacks have increased by 463%, followed by Hacktool at 224% and RiskwareTool at 52%. Worm, Spyware, and Hijacker seem to be less often used now.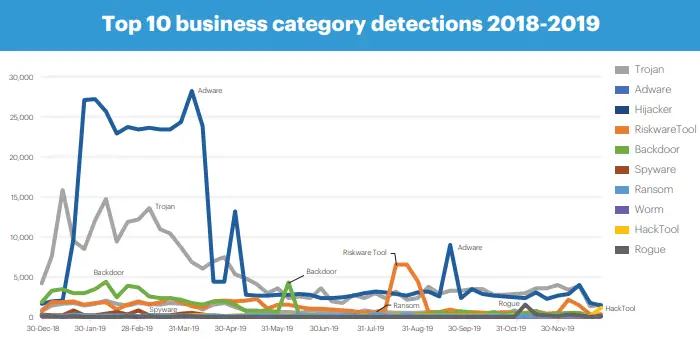 Macs outpaced Windows PCs in several threats
Malwarebytes installation increased multiple folds on Mac, and hence the number of threat detection also increased. However, per endpoint risen from 4.8 in 2018 to 11.0 in 2019 compared to the same statistics on Windows. Mac has been known to be the most secure, but it seems that an increase in business threats is also playing a role here. While Windows laptops dominate, Mac users base is not negligible.
NewTab and PCVARK are some of the top threats for Mac. The former is part of the adware family that attempts to redirect searches in the web browser to earn illicit affiliate revenue.
Pre-Installed Malware on Android Smartphones
Most of the smartphones come with pre-installed apps. They are installed as a partnership deal to cut down the price of the phone, but they should be a matter of concern. Some of the apps are such that they cannot be uninstalled or disabled from smartphones.
Followed by these are Android/Trojan.HiddenAds. They are known to serve advertisements aggressively. Ads in notifications, on the lock screen, and full-screen pop-ups are shown without user consent.
Key Takeaways
Thread detection in Business increased by 13 percent in 2019.
The sophistication of threat capabilities in 2019 increased
Emotet was Malwarebytes' overall second most-detected threat against organizations,
TrickBot's growth in 2019 has been much higher than Emotet's.
Ryuk Ransomware detections increased by 543 percent over Q4 2018
Detections of Sodinokibi ransomware have increased by 820 percent.
Twenty-four million Windows adware detections and 30 million Mac detections. The top three
Significant rise in the overall prevalence of Mac threats in 2019,
North America (NORAM) was responsible for 48 percent of detections
Europe, the Middle East, and Africa (EMEA) in second place at 26 percent
Latin America (LATAM) and the Asia Pacific (APAC) brought up the rear, with 14 and 12 percent, respectively.
A rise in pre-installed malware and Adware on Android devices
Macs outpaced Windows PCs in several threats detected per endpoint
There are a lot of details than what we have reported here, and we strongly urge you to read it for fine details. It's not just about Windows, but its also about Mobile, Mac, iOS, and untraditional ways to deploy ransomware.
Malwarebytes 2020 cybersecurity predictions
Ransomware attacks on organizations will continue at a more rapid pace, thanks to diversification in attack vectors
Web skimmers will broaden their impact by going after more e-commerce platforms and plug-ins.
Exploit kit activity will be at its highest since the post-Angler era.
Biometrics and genetic tracking will draw an international outcry for data privacy laws.
Election security mishaps will undermine the confidence of US voters.
Hybrid attacks with multi-stage payloads will escalate.
The year 2020 is not going to be any different, and not only you need to be careful but also make sure to take backups and have professional-grade software installed on the computer and smartphones.