Halo 4, the fourth installment in the Halo series remains officially available only on Xbox 360 but the same app appears to have just hit the iOS App Store. Naturally, the 2 apps advertised with screenshots featuring actual Halo 4 visuals are fake. The apps are not what they appear to be. The two Halo 4 titles in the App Store are not original.
Halo 4 App Scam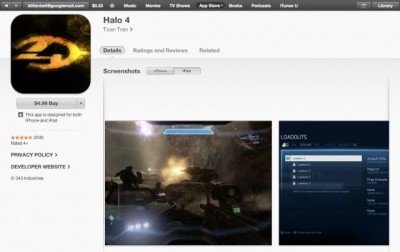 Although Apple, the Cupertino Company has managed to keep the App Store free from malware, it is having a tough time filtering out scams. The latest being Halo 4 replica, claiming to be iPhone/iPad exclusive. The 2 apps pretending as original Halo 4 game, in reality are s just a $4.99 game of chess and terrible racing game.
The description of the app reads:
Halo 4 for iPhone/iPad is the fourth installment in the Halo series where Master Chief returns to battle an ancient evil bent on vengeance and annihilation. This version is iPhone/iPad exclusive.
Of the two, one is developed by some Toan Tran, while the other by Dung Bui. The apps list all of the game's supposed features, like single player and multiplayer modes that can be played in first- and third-person perspectives and surprisingly feature more than 200 ratings, the vast majority of which are 5-star.
Toan Tran's Halo 4 has 191 five-star reviews while Dung Bui's has 87. As you may have already guessed by now, all the ratings are fake, given by the developers themselves or some other entity on their behalf.
Via Cult of Mac.