If the word of a new study undertaken jointly by IDC and the National University of Singapore (NUS) is to be taken, enterprises may soon end up spending $ 127 billion on security issues and $ 364 billion dealing with data breaches. The whooping amount in dollars would help companies deal better with the problems related to malware and cyber-security breach threats, believe many.
Global consumers, on the other hand, are expected to spend $ 25 billion and waste 1.2 billion hours this year on account of security threats and costly computer fixes stemming from malware on pirated software.
The NUS forensics analysed 203 new PCs loaded with pirated software from Brazil, China, India, Indonesia, Mexico, Russia, South Korea, Thailand, Turkey, Ukraine, and the US. It was observed 61 per cent of these PCs were pre-infected with unsafe malware, including Trojans, worms, viruses, hack tools, rootkits and adware.
The study, titled The Link Between Pirated Software and Cybersecurity Breaches, on the page underscores fears of Asia Pacific consumers about loss of data when attacked by malware and simultaneously highlights indolent behaviour of respondents to not install security updates, leaving  computers vulnerable to cyber-attacks.
The miscreant nature of cybercriminals, their attack on critical infrastructure installations and APAC governments has become a cause of concern. Worst being, unauthorized access to confidential government information.
"The effect of Cybercrime is financially devastating for consumers, companies, and governments alike" said Jeff Bullwinkel, Associate General Counsel and Director of Legal and Corporate Affairs, Microsoft Asia Pacific and Japan. "Cybercriminals are always looking for new ways to break into computer networks to take your money, steal your identity, and passwords for financial gain. The Microsoft Cybercrime Center is committed to putting an end to these acts to keep personal and financial data safe and secure."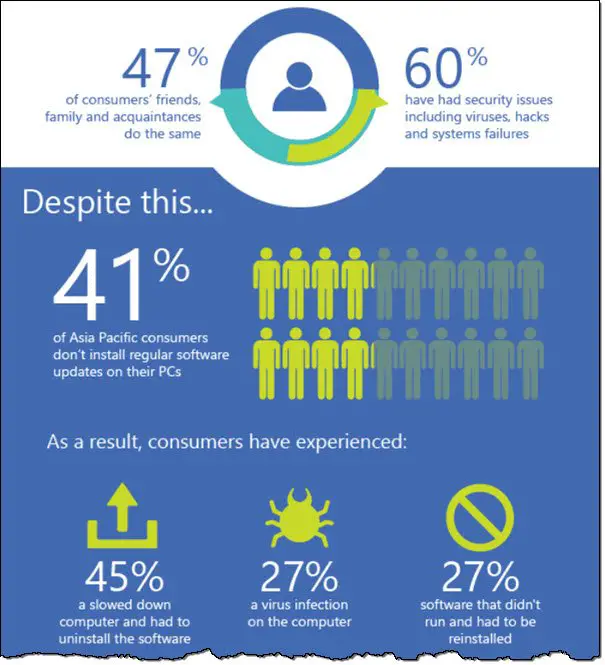 This Infographic and the study was released as part of Microsoft's 'Play It Safe' campaign, a global initiative to create greater awareness of the connection between malware and piracy.