The latest version of Opera desktop browser for Windows and Mac machines has been released today. The major highlight of Opera 21 is added support for Aura. 'Aura' provides a hardware-accelerated browsing experience with a faster feel and smoother animations. Opera claims the 'Aura gives a solid foundation on which to make future UI changes."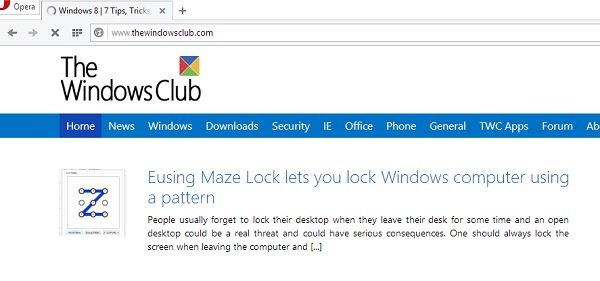 s core animation features help users to achieve the same snappier animations and flashy effects. Along with the quicker, smoother and leaner interface, Opera 21 also gives an option of displaying complete URL in the address bar instead of the simplified URL without any clutter.

To view full URL in Opera 21 users can go in Settings->click on 'Show Advanced Settings->click 'Show full URL in address field'.

Other improved and fixes of Opera 21 include –
Better site compatibility with updated Chromium to 34.0.1847.132.
Opera will now scale with screens that use 200% DPI setting in Windows
Improved Mac keyboard handling allowing a better support of web apps such as Google Docs and GitHub.
Off-Road mode
The team here put a lot of effort into getting Aura to work properly with Opera and the benefits are already paying off. Aura allows for smoother, snappier animations with a more responsive feel. So far, we have only scratched the surface of this technology, and Opera 21's primary intention was to get Aura working and stable. In the future, you will see further benefits as it allows us to give everything that little extra bit of polish, says the blog post.
Opera promises further benefits and a more polished browsing experience in near future. While Opera users will get an automatic update, others can download it for free for Mac and Windows. Users can install it alongside other versions of Opera.
Opera 21 download
You can download Opera 21 for Windows by clicking here.