The ever-increasing traffic on social sites means that users will be uploading more personal information in the form of pictures, whereabouts, work profiles, relationship status, etc. onto the internet. More the information, the greater would be the risk that you face of it being seen by somebody whom you do not intend to share. Today, in such a scenario, it is almost a necessity that you have utmost control of your online data by knowing your privacy settings on sites such as Facebook, Google or LinkedIn.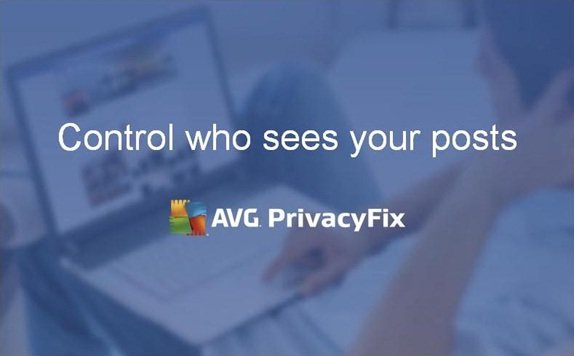 Thinking of a solution? AVG PrivacyFix is an application launched by AVG that aims to allow users take charge of their privacy settings for their social accounts so as to make them safer and being exposed to others.
As AVG puts it, AVG PrivacyFix application quickly and easily shows users what they are sharing on social networking websites and provides easy options to fix things if they don't like. This application can be used to turn off website tracking when you search and also ask companies to delete data that is held on you.
Talking of features, Jim Brock mentions through a blog post on AVG website, AVG PrivacyFix helps in number of ways, like it
Check your privacy settings across all your social network
Block over 1,200 different trackers from following your movements online
Get detailed information about the privacy policies of the websites you visit
Request that websites delete any of the data they hold about you
Find out just how much your data is worth to companies like Facebook and Google.
Privacy is a big thing, what with so many stories about tracking to social network sharing being posted on the Internet everyday. The application is useful to have control over Privacy settings and alerts you whenever they change. Post installation, users are asked to connect to their Facebook account while application analyzes the list of privacy fixes. Displaying the privacy index through different colors the application informs the user about the current status.
One you have installed this add-on you will be able to see your privacy score for each of the sites and a wealth of information f you visit your Dashboard – about all your settings and who all are tracking you.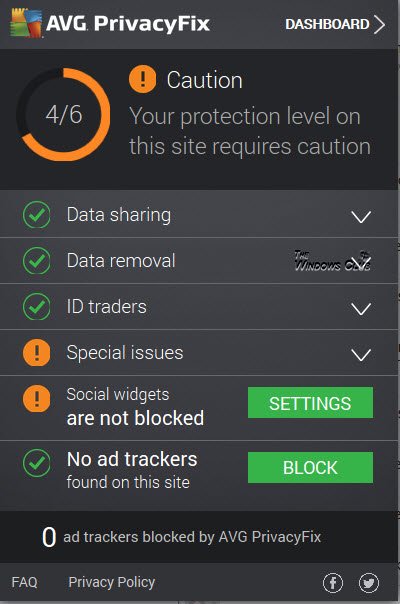 Not just for PC's but also for mobile devices
AVG PrivacyFix works with PCs, Macs, smartphone and tablets. Whether it is your Apple or Android device, AVG PrivacyFix can help keep your data private, your trackers blocked, and your settings managed.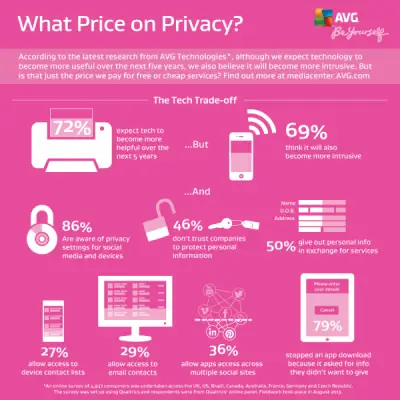 Get AVG PrivacyFix here and do come back with your opinion. Internet Explorer loyalists have reason to be disappointed here because AVG PrivacyFix is not available for Internet Explorer yet, however AVG is said to be working on the versions for Internet Explorer too.
You may also want to have a look at BitDefender Safego for Twitter, BitDefender Safego for Facebook Norton Satellite app, F-Secure Safe Profile and ESET Social Media Scanner.