A recent change in the privacy policy of security firm AVG has raised many eyebrows. A particular point in AVG's privacy policy, which is titled as 'Why do you collect my data?' clearly mentions that the antivirus and Internet security software company is collecting the data 'to make money'. Now, the question is, whether the company is selling users' browsing and search history to advertisers to make money.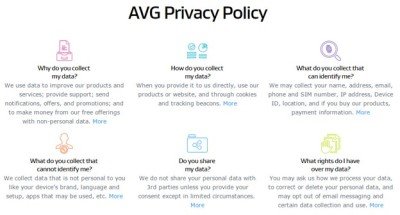 What does the new AVG privacy policy say
The first point in AVG's new policy says,
"It's simple. We provide products and services to help you secure your data, devices, and personal privacy. We use data to improve those products and services; provide support; send notifications, offers, and promotions; and to make money from our free offerings so that we can continue to offer them for free."
Though AVG is making it every effort to make its intention clear about using the browsing and search history data; the company is receiving negative remarks from all directions for its move.
Alexander Hanff, security expert and chief executive of Think Privacy, mentions that company has placed itself "squarely into the category of spyware".
While speaking to Wired, he further mentioned that,
"Antivirus software runs on our devices with elevated privileges so it can detect and block malware, adware, spyware and other threats. It is utterly unethical to [the] highest degree and a complete and total abuse of the trust we give our security software."
The report also says that Hanff has urged people using AVG's free antivirus to immediately uninstall the product and find an alternative free antivirus software.
However, AVG spokesperson has something else to say in the defense of the company.
"Those users who do not want us to use non-personal data in this way will be able to turn it off, without any decrease in the functionality our apps will provide. While AVG has not utilised data models to date, we may, in the future, provided that it is anonymous, non-personal data, and we are confident that our users have sufficient information and control to make an informed choice."
It is certainly not giving a good feeling from user's point of view.