Bill Gates is certainly a man who believes in changing the world for better. His frequent visits to India and the initiatives he has taken for the development of the poor and the underprivileged have certainly contributed in their struggle for a better life.
Yesterday, Bill Gates announced another visit to India. The general motive of his visit is to spend time with the poor and understand their day-to-day problems related to medical and health. A better knowledge on the challenges faced by these poor people will allow him to initiate invention for new drugs and vaccines among medical institutions in the US. US has a competent technical capacity capable of delivering innovative products that can treat deadly diseases, however since they are not exposed to problems of the countries where poorest live, the innovations doesn't happen regularly.
On the opportunities that he sees India possess, Bill Gates expressed,
"India is in an interesting position: It has both a deep understanding of the challenges and great capacity to help solve them. India's cities are flush with highly educated people working in well-funded labs, as well as extremely poor communities like the slum in Uttar Pradesh that I visited last year. That makes the country an ideal place to understand both the problems and the solutions. This is one reason why I try to visit at least once a year, and why I'll be spending a few days there later this month".
This visit, Bill Gates sees "three important things" to do while in India: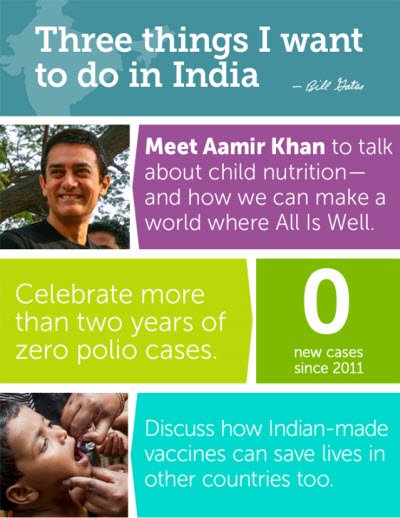 Bill wants to meet Aamir Khan, the famous Bollywood actor, and talk about child nutrition issues. He has heard about Aamir Khan's show "Satyamev Jayate(Truth Alone Prevails)" that highlighted sensitive social issues of India.
Bill also intends to have  a meeting with government leaders, people from UNICEF, the National Polio Surveillance Project, and Rotary International on polio and celebrate India's achievement of zero polio cases since last two years.
Discover how Indian made vaccines can help save lives in other countries too. Citing an example, the recent development he sees is the development of a new vaccine for rotavirus where the government has been working with partners. If licensed, it could save the lives of thousands of Indian children as well as many outside India.
Surely, Bill Gates has taken up a noble job that is not easy to perform – but if anyone can do, he surely can! Let's wish, his visit is a success.