Bill Gates, the co-founder of Microsoft Corp.  (MSFT) is now known worldwide for his philanthropic work. Popular London-based news agency – Reuters reports three of the top 20 investors in Microsoft Corp are lobbying the board to press for Bill Gates to step down as chairman of the software company he co-founded 38 years ago, provoking mixed reactions from other shareholders. They feel that Gates, who spends most of his time on his philanthropic foundation, wields power out of proportion to his declining shareholding.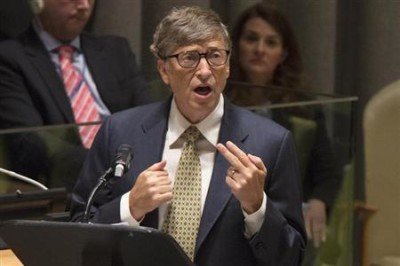 Bill Gates still remains the largest individual shareholder, owning about 4.5 percent of the USD 277 billion company. Earlier, he owned 49 percent of Microsoft before it went public in 1986. Every year he sells about 80 million Microsoft shares a year, under a pre-set plan to null his financial stake in the company by 2018. The businessman turned philanthropist lowered his profile at Microsoft after he handed the CEO role to Steve Ballmer in 2000, giving up his daily work there in 2008 to focus on the USD 38 billion Bill & Melinda Gates Foundation.
Over a decade or so Microsoft has shed its image as just a software vendor. It is now being recognized more as a valuable technology company selling subscription-based Software-as-a-Service (Office 365), usage-based Infrastructure and Platform-as-a-Service (Azure), consumer-oriented living room hardware (Xbox), Surface tablets and more, making enormous profits.
The rumor comes following the retirement announcement of CEO of Microsoft Corp – Steve Ballmer, who In the midst of a massive reorganization decided to step down. The board of the company looking for a new CEO who will take forward Ballmer's strategy, reports Reuters.
The chances of the company board giving any heed to the wishes of these three of the top twenty investors, are less. They collectively hold more than 5 percent of the company's stock. The identity of the investors has been kept anonymous citing reason – the discussions are private.
Well, we sometimes feel that people who do not want Bill Gates as the Chairman of the company he founded, have no business investing in Microsoft. What is your opinion about this?