Bing has added audio to its home page. Every day, Bing brings a new amazing image on its homepage. Its users eagerly wait to see and learn about the new image on its Homepage. Like millions of others visiting the Bing Homepage today, if you have noticed, Bing provided a surprise. Today you will not only see the beautiful video Homepage of flock of geese taking off at the Sacramento National Wildlife Refuge, California, but also hear audio.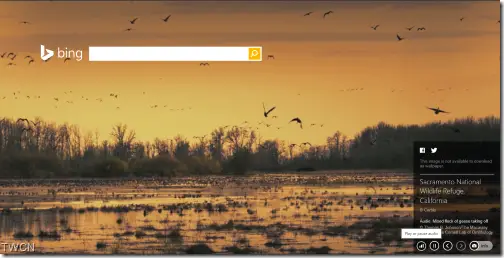 You'll have the option to enjoy the beautiful home page video along with the audio. Just click the icon located at the bottom-right of the homepage for the full experience.

The Bing Team listening to the users feedback added this feature.
"….We strive to inspire the spirit of exploration and the joy of discovery. Over time, we've evolved the way we tell stories about our world. In 2011, we released our first HTML5 video homepage. The following year, we enabled users to dive deeper with an interactive panoramic homepage.  Then our fans shared that they would love to hear rushing waterfalls, distinct animal calls, or waves lapping the  shores of a faraway beach when they see these evocative images on Bing. And now you can."
The Sound is off by default. So one can choose when and where to switch it on to listen. So if you haven't experienced the audio yet, click the audio icon on the bottom-right and see if you can hear.
To know more about the video and the geese calls captured by the Cornell Lab of Ornithology, click on the camera icon, also on the bottom-right. You have to set the market to en-US to experience it, if its not being shown in your region. You have to use the browser like IE which supports the video. Bing home page videos are not being played in Firefox.
The Bing team announcing this also wanted the users to post feedback on Bing Listens.