Bing Ads will soon bring the new Upgraded URLs format to help advertisers importing campaigns from Google Adwords. The feature will roll out sometime in the end of this summer.
Bing Ads Upgraded URLs
Google changed the destination URLs of AdWords to Upgraded URLs back in the month of February. It was a forced migration and facilitated the advertisers with features like new tracking parameters, reduced crawl and load times and easier management. After getting a lot of queries from advertisers about the same, Bing Ads decided to adopt the AdWords format of Upgraded URLs.
How will it help Bing Ads advertisers
The new Upgraded URLs format will help advertisers to manager URLs between Bing Ads and AdWords. It will save them time and help them importing campaigns from Google to Bing Ads platform.
Explaining the campaign importing process Jamie Chung, program manager at Bing Ads today posted in a blogpost, "When advertisers import their campaigns from Google to the Bing Ads platform, we will use your existing AdWords tracking templates (at the account, campaign, ad group and entity level) and URLs (both Final URL and Final Mobile URL) to reconstruct a Destination URL that Bing Ads is able to understand."
Bing Ads will offer a choice to the advertisers to switch to upgraded URLs through API, Bing Ads web UI and our Bing Ads Editor client. While Google brought it as a forced migration, Bing Ads will keep it as an optional change for advertisers.
Jamie Chung from Bing Ads posted a chart helping users to know more about the URL Bing Ads will use.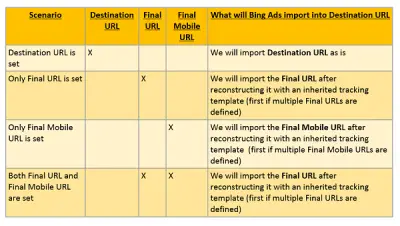 Learn more about the Upgraded URLs at Bing Ads blog.