Its Halloween season and everybody wants to make it special. Bing is also all set to scare its users with its new Halloween homepage design, dedicated to this scary season. As Bing, the search engine by Microsoft, describes, the home page holds some 'scream-worthy' surprises.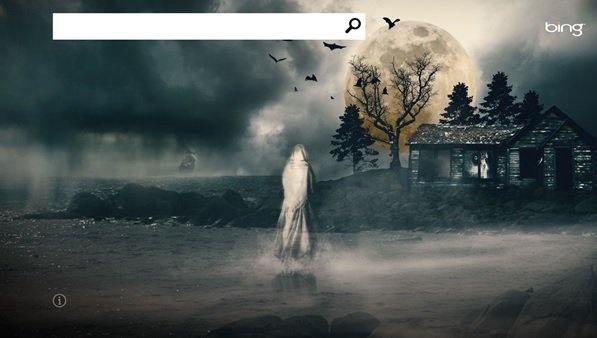 The opening of this Halloween special webpage was also done at an interesting (rather scary) time. At the stroke of midnight, Bing revealed this scary looking homepage to the world. Kristin Dean, the senior editor for the content programming team at Bing talks about the specially chosen Halloween home page of Bing:
"We're creating a new, unreal place. We wanted to create a spooky, chilling atmosphere. It also gives our developers a chance to try something new, and for our users, they get to experience something different."
This home is a mix of various ghost stories that we are always fascinated with (and scared by!) Bing describes the scary experience of Bing homepage as,
"With this experience, a trio of creepy vignettes emerge, beginning with La Llorona, a ghostly weeping woman, and continues with the Flying Dutchman on high, stormy seas and ends with the Bloody Mary chant in the mirror. At first glance, it looks like a video, but in keeping with Bing's signature look, they're photographs expertly layered by an artist in an original diorama-like environment. An audio designer worked on giving the experience an appropriately spooky soundtrack integral to the storytelling."
This is the not the first homepage made by Bing for Halloween. Last year, Bing's content programming team had created Halloween homepage that was dedicated to classic horror movies such as "Poltergeist" and "Psycho". Before that, in 2012, Bing's team had brought ghosts floating by the window. The Halloween homepage by Bing did its debut in 2011, where a looping six-second gargoyle was lit up by lightning.
You must visit the Bing Halloween home page to get that spooky and scary experience!