Halloween is just around the corner and no wonder people are searching for the Halloween costumes and ideas all over the web. While everyone is busy finding the best Halloween food, costume and party ideas, Bing and Cortana are already in their Halloween spirit.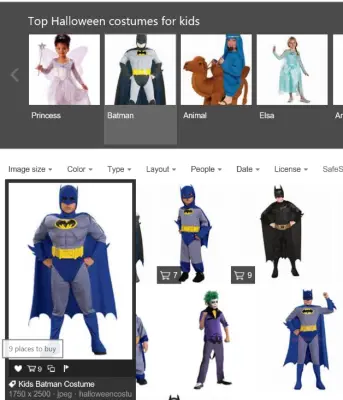 Halloween Costume ideas on Bing
Bing will now help you being best in your Halloween party. It now easier than ever to search for a Halloween costume on Bing. Whether you are looking for a costume for your kids or yourself, Bing easy search will help you getting one. Just click on your favorite Halloween costume on Bing search results and the browser will show you price details and the site selling that particular item.
Not just Bing, but your digital assistant Cortana will also help you being your best in the Halloween party. Just ask Cortana '"what should I wear for Halloween?" and it will come up with some latest and best results.
Halloween Food and Party Ideas
Not just with the costume, Bing team will now help you with the festive food and décor ideas too. Pumpkin Craving is one of the most popular norm of the festival and Bing can help you with lots of ideas for the same. Just type 'Pumpkin Craving' on your Bing search browser and you will see a big imagery of pumpkin cravings like funny, scary, 3D, cute and giant craving ideas.
Bing Spooky Map
Team Bing's Halloween mood becomes quite apparent with the Spooky Bing Map starting today. A new set of Halloween themed icons, used to denote the landmarks and the funny color palates make the new Bing map ghostlier.
Need more? Bing further gives you a list of haunted houses in the UK, Canada and US to give you the best Halloween experience this year.  So what are you waiting for, go to the Bing web browser and have a ghostly time. Do not forget to see the haunting Bing homepage on Halloween, 31st October, 2015.
PC useres may want to check out some cool Halloween Themes for Windows.
Happy Halloween!