Just a year after its launch, Bing Desktop crosses 10 million downloads mark. The app allows you to search things and enjoy Bing Homepage images as your Windows desktop background. Now, based on user feedback some new features have been added to the app.
Bing Desktop app new features
In the first place, Microsoft has added a new cascading layout. The layout lets you see images and text summaries and simultaneously view a collection of the top trending items on the Web. Since its inception, Bing Desktop has been a place for exploration.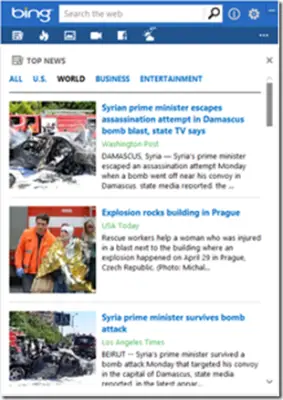 Bing Desktop other new features added:
Inline Search: Now you can search a phrase and understand its meaning directly from a webpage or from a Word document or PDF file simply by highlighting the word or phrase and clicking the Bing icon. A preview of search results gets displayed in a convenient window.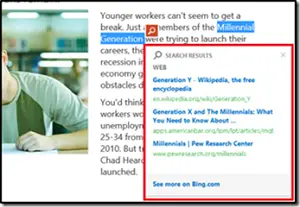 Real-Time Weather Snapshot: Microsoft has added real-time weather customized to where you live.
Facebook Notifications: In its continuous quest to make social an integral part of Bing, Microsoft has added Facebook notifications icon on the toolbar. You will now see a notification appear whenever there is an update for you to check out.

Microsoft said, We've also added a visual collection of the top trending items on the Web so you can keep your finger on what's happening in a gorgeous waterfall layout.