Enhanced Bing Sitelinks extensions are now live. The Enhanced Sitelinks offer the multiple opportunities to reach your site along with the homepage. These enhanced Bing sitelink extensions will let the advertisers linking searches to the specific pages of a website.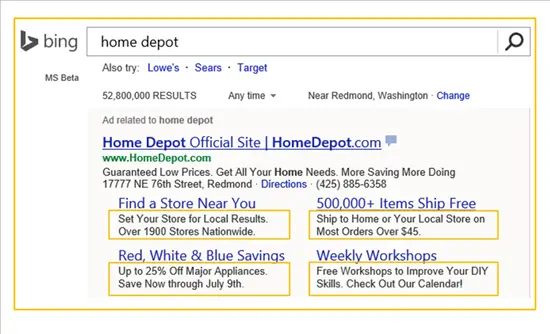 Enhanced Sitelinks
The enhanced feature of Sitelinks lets the users adding up to two lines describing their Siteline extension which serve as an attractive and descriptive ad capturing the attention of potential customers online. The enhanced Sitelinks of Bing promotes brand awareness, attract more users to your website and also increase the rate of conversions.
The Enhanced Sitelinks have been used by a selected set of U.S advertisers for last few months and according to the internal U.S. Data collected by Microsoft, an increased click-through rate lift of 27%- 68% is observed. Some of the obvious benefits of Enhanced Sitelinks include- improved CTR, more conversation paths, and a better brand equity.
Note that Enhanced Sitelinks is currently not supported in mobile devices.  You can select the Mobile preference without entering Sitelink descriptions.
As mentioned in the official blog post, the feature of extended sitelinks is currently available only for US users and will be rolling out in global markets by the end of this year.