Bing today announced providing one of the most requested features – high-definition images for its home page. Starting today, the Bing home page image will be HD, wide-screen and include many more improvements.
Wide-screen, High-definition Bing homepage
One of the most requested feature of Bing users was to make the Bing homepage background image, High-definition. Fulfilling this request, Bing will feature wide-screen and HD (1920×1080 pixels) images.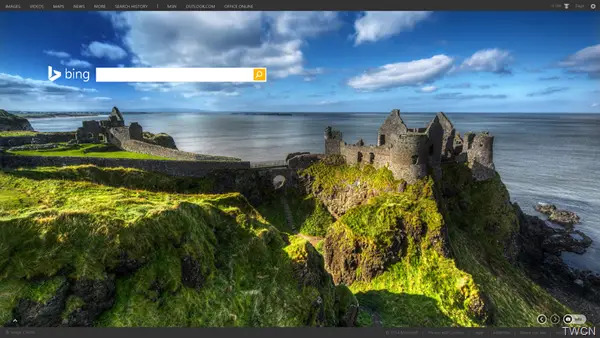 Now that the Bing images are HD, users with slow connection may find it a bit slow. So Bing has provided an option for that. From the Bing Home page, click on the Preference Gear icon, in Settings >Homepage, you have the option to choose Bing Homepage Image size.
It also has an option if the home page image is a Video or Panorama.
New image caption
Based on the feedback, the Bing team has redesigned  the image caption as a user generally tries to figure out what or where the featured Bing Homepage image is. So the Bing team redesigned it bit like a title card – you might see it next to a piece of artwork in a gallery or museum.
One has to just move the mouse over the 'Info' button to see the image caption and you can click on it to get more information. There's an option to download the image too, for using it as desktop wallpaper. It also offers options to post it on Social media sites like Twitter and Facebook.
Carousel customization
The trending topic carousel at the footer can also be customized according to ones topic of interest. One can customize it to follow news, stocks, weather or even track a flight right from the Bing homepage. The carousel can also be minimized.
Access Office Online suite
At the top of the Bing Homepage, one can access the productivity tools of the Office Online suite.
Available Worldwide
Bing user normally complain of new features being not available worldwide, but this time Bing team has made it available worldwide.
"The new HD image, image caption, and Office Online menu are available in all markets as of today. In most markets, you'll get the HD homepage automatically. If you do not see it in your market, you can switch it on via Settings. Downloadable wallpaper is available in ten markets, while the news carousel customization and minimizing is available in the United States."
The Bing home page Team announcing this has invited feedback to make it even better.