Microsoft has introduced the new Bing, which has a chatbot based on ChatGPT to answer users' queries. It is already being used by millions of users around the world. Microsoft has now gone further and introduced Bing Image Creator, the new AI-powered tool that can create images based on your text prompts.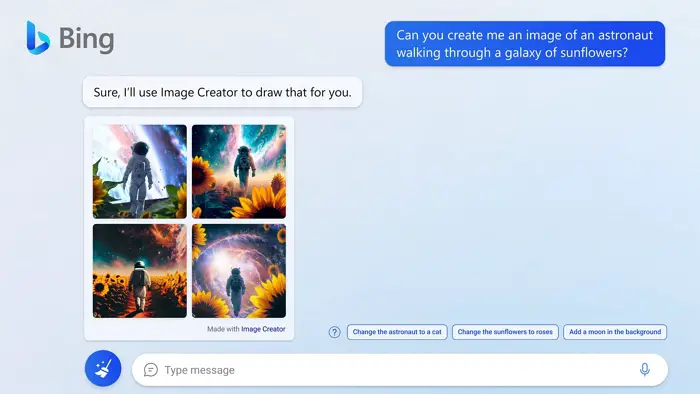 Bing Image Creator is powered by an advanced version of the DALL-E model. The new feature, which can generate images based on text prompts, makes Bing an advanced search engine where users can generate both written and visual content in one place, within the chat.
Bing Image Creator powered by DALL-E
According to Bing data, images are the most searched categories, next to general web searches. To make it more friendly and useful to users, Microsoft has introduced Bing Image Creator. If you already use the new Bing preview, the Bing Image Creator will be part of Creative mode. You can type in the text prompt describing the image, its location, surroundings, style, activity, etc., to generate the images based on your imagination. It acts like your creative co-pilot.
Bing Image Creator preview will also be available in Microsoft Edge, making it the first and only browser with an integrated AI-powered image generator. To use Bing Image Creator in Edge, simply click the Bing Image Creator icon in the sidebar to create your image or invoke from Bing chat in Edge." said Microsoft in its pressnote on Bing Image Creator.
Microsoft, with its partner OpenAI are working towards making Bing Image Creator a safe tool that curbs the generation of harmful images and misuse by users. They have incorporated OpenAI's safeguards, plus additional protections, into Bing Image Creator. Bing Image Creator will be available to users in a phased manner in the Creative mode.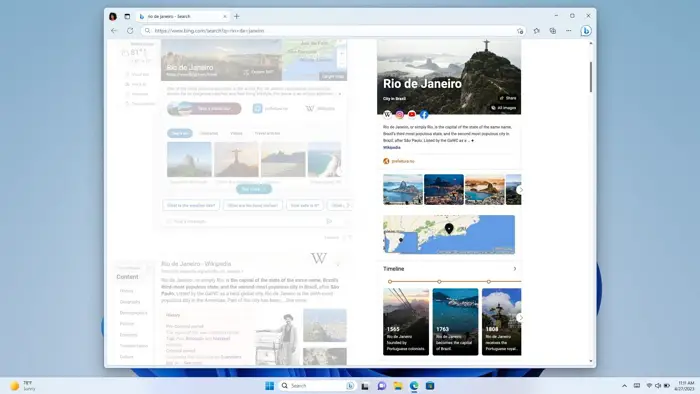 Microsoft has also made Stories and Knowledge Cards 2.0 available to all Bing users. They provide a way for the users to interact with the content and understand it better. Knowledge Cards 2.0 is an AI-powered infographic-inspired experience that provides fun facts and key information at a glance.
Bing Image Creator is integrated and available for Bing preview users at bing.com/create on both Desktop and Mobile. The features is even available to use even if you are not part of the Bing preview. You can also access Bing Image Creator from the sidebar on Microsoft Edge on both mobile and desktop.
Read: Best free AI Image Generators you need to check out.