In a recent blog published on Bing Blogs, Bing says that even image search can inspire you, help you learn more and can offer several other options to do more.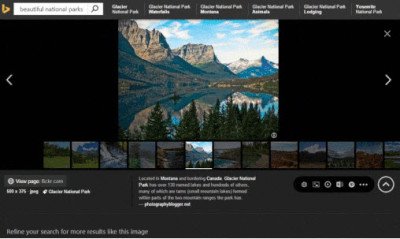 Bing Image search
Bing has plans to offer several things through image search. They believe, that image search should not be the end of search, but it should be the beginning of the search. Inspired by this thought, Bing search results opens up several other opportunities to do more.
We often search images to buy certain stuff, to know more about a person (historical figure, celebrity, sports personality) or see the places to visit. In any of these cases, Bing will now provide you additional information along with the search results. All you have to do is scroll or swipe up to get useful and interesting information to help you learn more about that image. Not only that, but Bing will also offer you the options such as where you can buy a particular product that you  are looking for, and useful information related to the place you are looking forward to visit.
Some of the options Bing image search results will offer in the future are as follows:
Places to buy the product in the image (this is still in beta)
Related searches based on the image
Pinterest collections with this image
More sizes of the image
Pages with this image
Besides this, Bing will also help you in learning more about certain image. This image may not necessarily be your intentional search. It can be simply one of the images that appeared along with hundreds of other images. However, now each of these images will come with additional information about it.
For example, if you are searching for national parks and an image of a beautiful landscape appears. You want to know more about the place that this image is showing. With Bing image search, you won't have to struggle much. When you select the image, additional information will appear at the bottom of that page.
Bing image search has plans to provide better image search experience. You can read the blog here and learn the tips and tricks of image search here.