Microsoft claims Bing is more than a search engine. The company believes it's more a type of decision engine that provides useful tools to help its users make more informed decisions and get what they want fast. Now, it even includes a State-of-the-Art speller.
No matter which Internet search engine you use, Bing or Google, there always remain a possibility of you entering an incorrect spelling in the search box. Although these search engines are capable enough of fishing out misspelled words and present you correct alternatives, they in most cases do not work.
Bing has come up with its State-of-the-Art speller. The speller features advanced learning models. Via a post on the Bing blog, Microsoft informed,
"It takes state-of-the-art machine learning, statistical modeling, information retrieval, and significant engineering muscle to deliver high quality web scale spell correction at high speeds."
This allows Bing's spell checker to figure out the intent of a search screen even if it isn't correctly typed in by the user.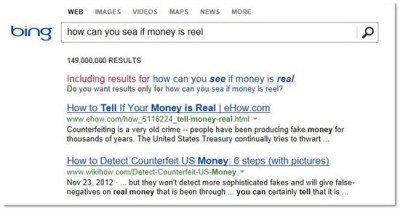 Jim Kleban of the Bing team provides an overview of Bing Speller technology with an example. He mentions even if a word is spelled correctly, the Bing Speller corrects it to better suit the searchers intent.
For example, if someone searches the phrase: "how can you sea if money is reel," when searching for information on how to detect the authenticity of money, the Bing Speller corrects the two words "sea" to "see" and "reel" to "real. This is because, even though the two words are correctly spelled, they don't suit in the context of enquiry.
The correction thus helps in producing accurate search results.