It has been a busy year for the Bing Team who's been working at a hectic pace for getting tons of new cool features aimed at making life easy for the Bing users and help them quickly make decisions or get the stuff done. Nevertheless, the team remembers it's the year end and therefore takes a short break and say big thanks to its users.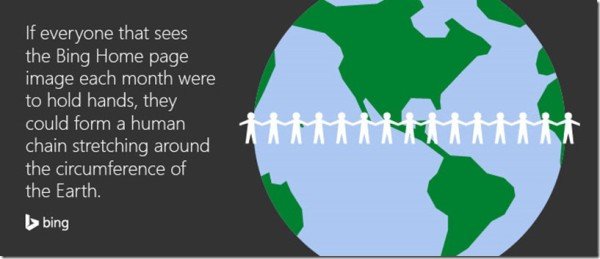 Great Year for Bing
Bing team acknowledges all the changes introduced wouldn't have been possible without the engagement of users and their feedback then be it in the form of a minor update like downloadable homepage images or major changes like powering Smart Search in Windows 8.1 and voice search in Xbox One.
Bing has prepared an infographic to showcase things you might find surprising about the browser. Some interesting facts highlighted in the blog post –
Bing indexes a half a billion tweets from Twitter and over 2 billion status updates from Facebook every single day in real time. That means, that in one week, it ingests more data into Bing than the number of webpages that existed in 2005.
Bing Video showcases leading web video services such as Vevo, Hulu, Daily Motion, CBS, MSN, MTV, Vimeo, and more (and yes, YouTube also!). Growing number of users is tantamount to the popularity of the search engine. The activity on Bing Video has more than doubled in 2013 year over year.
In the end, Bing team has expressed gratitude about having an opportunity to participate in so many interesting and important conversations with its users. The whole team claims is committed to working hard and bring before you experiences that are smarter about your intent, and deliver real knowledge to help you complete complex tasks and make better decisions. We hope. Microsoft's search engine grows better and better in the months and years ahead.
Go see the full Infographic here.