An odd truth about the book lovers is that more you, have more you want. A quote written by Patricia A Mckillip says, "The odd thing about people who had many books was how they always wanted more."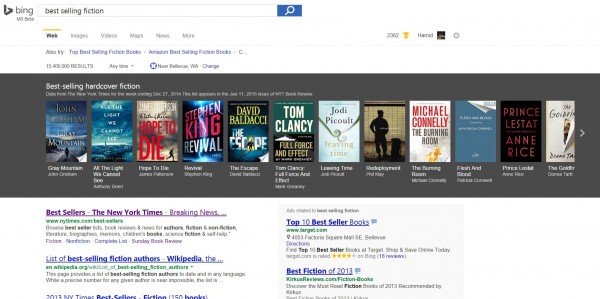 Microsoft's search engine Bing brings best-selling books carousel, a new way for book lovers to find a good book to buy and read. Just search for best-sellers in any of your favorite genre and the new carousel will display a virtual shelf New York Times best sellers. Users can know more about any book just by clicking on the individual titles.
Bing's best-sellers carousel showcases the best-sellers in almost every category including fiction, non-fiction, kids' books, business books, manga and more. The books displayed in the carousel are ranked on the basis of their monthly or weekly sale.
As mentioned in the official Bing blog the carousel will be refreshed with any change in New York Times best sellers.
So, if you are a book lover and been looking for your favorite book online, make Bing your default search engine and grab the best-sellers in real time.
Do try this newly added Bing best-sellers search feature and do let us know how you like it.