Bing has teamed up with Klout, the social media analytics and the standard for Influence, to expand its People Snapshots. This will make the Klout score (how much influence you have on the social media) appear on the Bing search results page, when you will look for a person or a product.
Over the past few months, Klout has made a big impact in the social media. It has to a good extent become a standard for measuring one's influence. Many employers, especially in the social media business rely on this service to pick the right candidate. The search engine giant will supposedly provide more information about the people to Klout to strengthen the scoring system.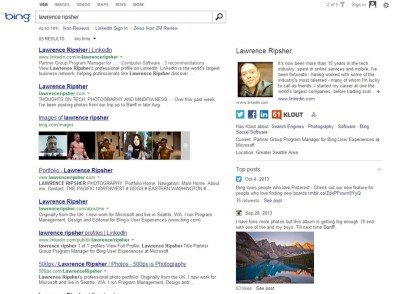 Bing Klout collaboration
The Klout-verified information will also help you in knowing that the information and the account attributed to that information is legit.
The CEO of Klout Joe Fernandez elaborated how this collaboration will be worthwhile.
Microsoft and Klout both believe that the growth of the social web and the increasing importance of your online identity are fundamentally transforming the Internet, making it even more important to understand people, not just pages. Like Microsoft, Klout is a friend to all social networks. We both want to help everyone discover relevant people regardless of the specific networks on which they're active. And we believe we've only just begun to tap into the knowledge and insights "search through people" will enable, now and into the future.

In addition, Top Klout Moments (Your posts from Twitter and Instagram that got the most attention) will appear alongside. You can control what things you want Klout to showcase in your Bing People Snapshot. You can claim your snapshot from here.