Bing will now make its knowledge graph available to developers. Microsoft today announced Bing's Knowledge and Action Graph availability to developers via a new API.
Developers can now expose rich data from Bing knowledge and action graphs to their apps, thereby enhancing them. This new API lets the developers integrate their apps and services to the data from the Bing knowledge and action graph. This will help users getting all the relevant information within the app itself.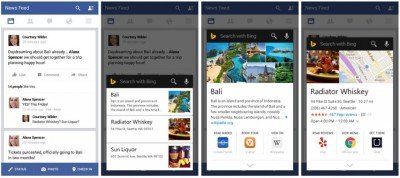 Bing Knowledge and Action Graph
For example, the developers can add a snapshot from Bing showing the actionable information on a restaurant which may help users to plan an event and a Travel app can include the Bing snapshots of tourist spots with details.
A News app can include the descriptions and definitions of typical terminology which users may want to know and a Music app can include the details like snapshots of songs and artists.
Talking about this new API, Gurpreet Pall, Director of Program Management, Bing for Partners writes, "While we are excited that these snapshots enhance applications with rich knowledge and actions, we believe this is just the start. By working with developers to bring Bing's rich data and actions directly into their applications or services, we can address very real needs for developers and join hands to delight users".
Bing invites all the developers to join their community and integrate the latest API in their apps. If you are a developer, you can request access to the Bing knowledge and action graph API by emailing [email protected]
Watch the video below to know more about the latest Bing API.