Soon after bringing an easy way to access free online courses and books, Bing has now come up with a new feature of 'School's ratings'. This new feature of Bing will now help parents select the right schools for their ward by showing the school rankings, ratings and academic indicators directly in Snapshot. This will include almost every school in the US- from elementary school to higher education.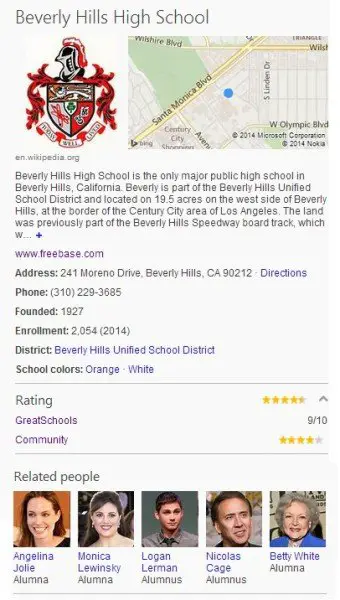 Bing Live School Ratings
When you will search for any school on Bing it will come up with all details like the school fare and the state-wise and community wise ratings. The search results will also showcase the STEM ratings of the school as well as the famous alumnus of every school. STEM ratings rates the schools on the basis of the top science, technology, engineering and math schools.
The official blog post of Bing highlights the examples of Newport High School, Lincoln High School and Beverly Hills High School. The screenshot posted in the blogpost showcases the important details like school address, contact numbers, school colors, and ratings as well as the famous ex-students (alumnus) which include some very popular names like Angelina Jolie and Monica Lewinsky.
So if you are a US resident and are confused in selecting the school for your ward, Bing has your back; it will let you know which is the best school in your vicinity.