Those who are die-hard fans of karaoke singing must be aware of the pain of searching for the lyrics of their favorite song. Not only for karaoke singing; but in general also, if you try and search for the lyrics of a song, you need to follow a typical route. You go to any search engine; then type 'XYZ song lyrics' and a huge list of links appears in front of you which are ready to display the lyrics. Then you go on clicking the links one by one to get the full lyrics of that song. Long process, isn't it?
Bing Lyrics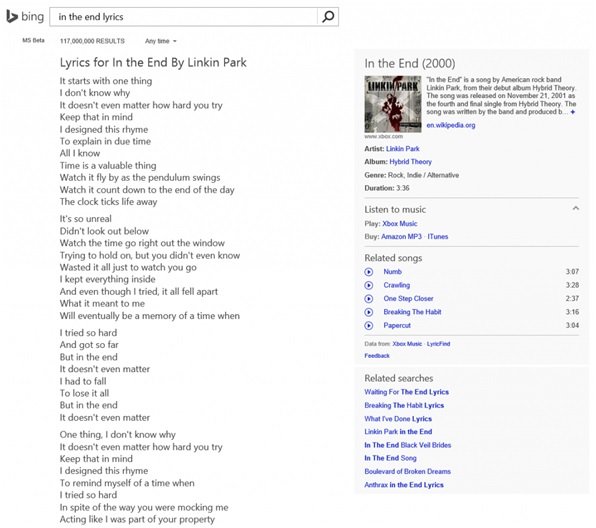 Bing has now decided to reduce your efforts with the latest Bing Lyrics experience. This new feature added in Bing search engine displays the full song lyrics that you search for, without you having to click on third party website links. Just like the rich snippets appearing on top of the search result page (current time, currency converter, address, event dates etc.), these lyrics appear in the beginning of the search results in Bing. Certainly a pleasant Bing Lyrics experience!In an official blog post, Bing mentioned about this new feature,
"Bing has launched a new Lyrics experience that enables you to view full lyrics for your favorite song on the mainline search results page, without having to click through to a third party site or spend time figuring out which blue link on the page will yield good quality lyrics."
Bing further mentions,
"You can also view the artist, album and other song related information on the snapshot alongside the main search results."
Microsoft Bing mentioned that they have started this Bing lyrics experience by adding more than half a million songs in their database. And Bing is expecting to grow this list in coming weeks. When this will happen, karaoke lovers will certainly find the Bing lyrics experience a life saver.
And like Bing says,
"..next time you want to sing along, let Bing be your guide!"